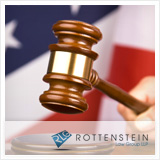 If individual lawsuits are deemed worthwhile, they will each get a trial.
New York, NY (PRWEB) April 03, 2013
As more people file GranuFlo and Naturalyte lawsuits nationwide, a judicial panel has ordered that all federal suits for those two dialysis medications should be consolidated into a multidistrict litigation in Massachusetts, according to court records.* The Rottenstein Law Group, a GranuFlo and Naturalyte law firm, applauds the decision, which will allow for more efficient pretrial information gathering with the goal of more eligible plaintiffs getting a trial in a quick fashion. The firm maintains a GranuFlo Lawsuit Information Center at http://www.rotlaw.com/granuflo to help those who believe their medication has injured them file a lawsuit.
On March 29, the U.S. Judicial Panel on Multidistrict Litigation ordered the forming of the MDL (In re: Fresenius GranuFlo/NaturaLyte Dialysate Products Liability Litigation, MDL-2428). According to court records, there were 11 actions pending in seven district courts. They—and others still to be filed—will now be consolidated in the U.S. District Court for the District of Massachusetts.
"When the panel decides to form an MDL, the lawsuits all need to be centered around the same reason the plaintiffs filed suit in the first place—they have common questions of fact," said Rochelle Rottenstein, principal of the Rottenstein Law Group. "With these cases, they all center on alleged injuries and death caused by the drugs' side effects—such as heart attacks and cardiac arrhythmia—during hemodialysis. These similarities are what makes consolidated pretrial proceedings such as discovery feasible. Otherwise, it would not be prudent to consolidate them."
This consolidation is not the same as a class-action lawsuit, though, Rottenstein said.
"It is common for people to confuse an MDL with a class-action lawsuit," she said, "but the fact is they are quite different. A class-action lawsuit treats a large number of plaintiffs as one 'class,' or body. The monetary award, if there is one, is shared among those plaintiffs. With an MDL, all that is shared are a handful of pretrial processes. If individual lawsuits are deemed worthwhile, they will each get a trial."
The Rottenstein Law Group encourages those seeking more information on GranuFlo lawsuits to visit this page on their website. There, visitors can learn more about the history and the problems reported with the marketing of the drugs, as well as learn more about how to file a GranuFlo lawsuit.
*http://www.jpml.uscourts.gov/sites/jpml/files/MDL-2428-Initial_Transfer-03-13.pdf
About THE ROTTENSTEIN LAW GROUP
The Rottenstein Law Group is a New York-based firm that represents clients nationwide in mass tort actions. The firm was founded by Rochelle Rottenstein, who has more than two decades of experience as a lawyer, to represent clients hurt by defective medical devices and drugs. (Attorney advertising. Prior results do not guarantee a similar outcome.)
Contact:
The Rottenstein Law Group, LLP
Rochelle Rottenstein, Esq.
321 W. 44th Street
# 804
New York NY 10036
(212) 933-9500 (office phone)
(212) 933-9980 (facsimile)
rochelle (at) rotlaw (dot) com
http://www.rotlaw.com
###