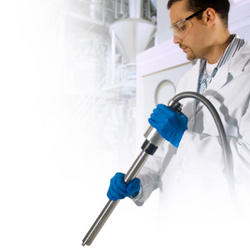 Columbia, MD (PRWEB) October 1, 2008
METTLER TOLEDO recently announced the launch of the FBRM® C35 to ensure targeted granule size in-process. The FBRM C35 enables formulation scientists and engineers to quickly correlate particle size and system dynamics to processing conditions by running fewer experiments than traditional methods. This allows for faster understanding and optimization of a formulation with no sampling required.
With the new FBRM® C35, formulators and engineers can:
Understand granulation - Monitor real-time changes in particle count and dimension/size during cohesive wet or dry particle processing and enable Quality by Design (QbD) throughout granulation development, scale-up, and manufacturing;
Control Batch-to-Batch Repeatability - FBRM® trends enable users to identify and troubleshoot unexpected process changes. Therefore, FBRM can be used to minimize batch failures, improve yield, and troubleshoot scale-up or technology transfer.
Identify Batch Endpoint - FBRM® allows users to identify a distribution corresponding to the ideal batch endpoint. FBRM® real-time distributions can then be tracked relative to this target distribution to ensure consistent downstream particle flow, tableting, and dissolution.
Ensure Consistent Measurements - The innovative FBRM® C35 addresses applications where window fouling is a potential issue. The FBRM® C35 patent-pending scraper keeps the FBRM® probe window clean allowing the system to track agglomeration, compaction, and breakage, even in the most cohesive particle conditions.
After purchasing Lasentec in 2001, METTLER TOLEDO has become the world leader for inline particle/droplet size, shape, and count characterization.
###