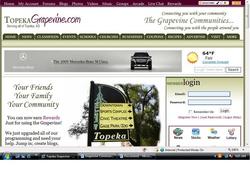 It looks like I will be enjoying it a lot. ... So much to do on here.
Redmond, OR (PRWEB) October 20, 2008
The Grapevine Communities, a group of 200+ community-based social media websites across the country, are connecting people to their communities with local content by using features similar to MySpace, Craigslist, YouTube, Facebook and more.
Thousands of members in small towns and large cities throughout the nation are discovering the power of information and entertainment in community websites such as SacramentoGrapevine.com, CapeCodGrapevine.com, SeattleGrapevine.com, HartfordGrapevine.com, or LafayetteGrapevine.com.
"Someone else suggested this site, and I'm glad they did," wrote TheRealMacoy, a member at LafayetteGrapevine.com in a public message to another member. "It looks like I will be enjoying it a lot. ... So much to do on here."
At each Grapevine Community Website, members can find hundreds of interactive things to do, such as:

Easily post their own blog for the world to read and comment on
Find forums on local topics of interest to discuss and debate in a tempered manner
Print coupons from local grocery stores, or create and post their own coupons for their own business
Find a needed business in the local Business Directory, or list their business in the Business Directory so people can easily find information about their product or service.
Spend hours playing 700 games in the arcade
Find local news from local media, along with national, world, business, sports, entertainment, science and technology and offbeat news
Sell or buy items in the local classifieds, post help wanted ads and list Real Estate for sale.
Find things to do in the local calendar of events or post their own events for the public to see
List local Church and School information, or create Groups to share information
Track stocks, find local movie times, weather, local gas prices, horoscopes and 30 financial calculators
Set up their own Webpage to be a MySpace-like page and put a bunch of cool stuff on it like videos, photos, music, blogs, background screen shots and more. Members can invite friends within their Grapevine community to join them on their MySpace-like Webpage
Set up banner advertising to market their business at discounted rates for local companies
Listen to the Grapevine radio or create their own music playlist to play in the background
And much more
In short, the Grapevine Communities were put together so people could share their interest with those around them, within the community where they live.
The Grapevine sites are truly community oriented, filled with local information and entertainment. They are not corporate sites filled with offers to purchase services or products and bothersome bogus links. They are in fact, as an example of the community spirit of Grapevine Websites, becoming the place to go to find information about local schools and churches, and to list and find Real Estate during these hard economic times.
MySpace, Craigslist, YouTube, LinkedIn, Facebook and other networking sites are dominating the marketplace on a global scale with social, business and entertainment networking sites. But what they don't do is target individual communities with all of the combined features of their sites. The Grapevine Communities combine similar features of these national sites into local Websites.
The reward for each owner of a Grapevine Community Website is advertising revenues from local business owners in each community.
The benefit for Grapevine members are Reward Points. Quickly, members earn points just by posting to the sites. The points can be exchanged for $10, $100 and $250 Gift Cards to Best Buy, Home Depot,
Wal-Mart or Staples. There's no catch. It's our way of saying thanks for using the Grapevine Community Websites. In other words, it pays to use the Grapevine Community Websites.
The goal is simple.
Enjoy IndianapolisGrapevine.com, ColoradoSpringsGrapevine.com, RochesterGrapevine.com, NashvilleGrapevine.com or any of the other Grapevine Community Sites and tell others about it so communities can be brought together to share in their visions, discuss their challenges, grow their businesses, stay informed and be entertained.
ABOUT THE GRAPEVINE COMMUNITIES
The Grapevine Communities were launched in January 2008 by Jared Leisek of Oregon after he and his wife Kristin could not find any information online about things to do in their community.
Starting at zero and rapidly growing to more than 200 sites nationwide as of October 2008, the goal is to grow to 1500 sites in the next 3-5 years. Each Grapevine Community Website is independently owned and operated. Website hosting, technical support and business development are provided to each owner.
Main Contact:
Jared Leisek
President The Grapevine Communities
P.O. Box 848
Redmond, Oregon 97756
541-390-9597
###