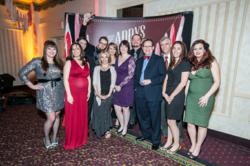 To receive nine ADDY Awards is phenomenal for all of us at Graphcom Creative, and I am very proud of the creative teams who worked so hard to plan, design and develop these amazing projects. — Troy Dean, Creative Director of Graphcom Creative
Gettysburg, Pa. (PRWEB) February 28, 2013
Graphcom Creative, a full-service marketing and creative firm, and division of Gettysburg-based Graphcom, Inc. received a total nine ADDY Awards — seven gold, one silver and one Judge's Award — at the American Advertising Federation (AAF) of Greater Frederick's 2013 ADDY Awards held Feb. 23 in Frederick, Md. Established in 1989, AAF – Greater Frederick is one of 210 local chapters of the AAF and is part of District 2, which includes New York, Pennsylvania, New Jersey, Maryland, Delaware and Washington, D.C. The ADDY Awards competition is the largest AAF – Greater Frederick event of the year — the "Oscars" of the advertising world.
Graphcom Creative's ADDY Awards consist of:

One Judge's Award and one Gold ADDY Award in the category of Advertising Industry – Self-Promotion – Non-Traditional for the Frederick Gorilla Banana Stickers.
*One Gold ADDY Award in the category of Digital Advertising – Consumer Websites for the Whitetail Resort website (http://www.skiwhitetail.com). This announcement marks the first time that Graphcom Creative has received an ADDY Award in the Digital Advertising – Consumer Websites category.
Two Gold ADDY Awards in the category of Collateral Material – Annual Report, Four-Color: one for the 2011Allegheny Electric Cooperative Annual Report, "Staying Power: 65 Years of Setting the Pace," and one for the 2011 Pennsylvania Housing Finance Agency (PHFA) Annual Report, "The Lives We Touch."
*One Gold ADDY Award in the category of Sales Promotion – Product or Service Sales Presentation for the Adams County Nursery Catalog.
*One Gold ADDY Award in the category of Advertising Industry – Self-Promotion – Single Medium Campaign for branded Graphcom Services T-shirts.
*One Gold ADDY Award in the category of Collateral Material – Publication Design – Editorial Spread or Feature for the feature story "Dividing Lines" from the October/November 2012 issue of Frederick Gorilla magazine, and one Silver ADDY Award in the same category for the feature story "Houses of Wax," also from the October/November 2012 issue of Frederick Gorilla magazine.
"To receive nine ADDY Awards is phenomenal for all of us at Graphcom Creative, and I am very proud of the creative teams who worked so hard to plan, design and develop these amazing projects," said Troy Dean, Creative Director of Graphcom Creative.
"To be honored with these awards, in the company of such other strong award recipients, is certainly a great accomplishment for everyone at Graphcom who works so diligently to make all of these projects so visually dynamic for our clients," said Graphcom, Inc. President Matt Livelsberger.
Graphcom Creative's Gold ADDY Award-winning projects will be automatically entered into the next level of competition hosted by AAF.
About the ADDY Awards
Attracting nearly 60,000 entries each year nationwide, the American Advertising Federation's (AAF) ADDY Awards have become the largest and most comprehensive advertising competition. The ADDY Awards originated in the 4th District in 1960 and became a three-tiered national competition in 1968.
Sponsored by the AAF, the awards honor excellence in advertising and cultivate the highest creative standards in the industry. Each year, the competition begins with contests in the nation's more than 200 AAF member clubs, where entries must be submitted and judged to be eligible for the ADDY process. Local winners proceed to 15 regional competitions, and those winners advance to the national finals.
Proceeds from the ADDY Awards program on all levels of competition go back into the industry through the work of the AAF and its members, especially in the areas of advertising education and public service advertising.
For more details on the American Advertising Federation of Greater Frederick, visit http://www.aaffrederick.org.
About Graphcom Creative
Graphcom Creative was established in 2009 by Troy and Jessica Dean, lifelong residents of Adams County and owners of Celebrate Gettysburg magazine. Its services cover the following areas: print design, web design and development, email marketing, SEO consultation, mobile app development, copywriting, photography and public relations services.
About Graphcom, Inc.
Founded in 1982 by S. Gregory and Christine Allen, Graphcom, Inc. is a full-service marketing and publishing firm and G7 Master Printer located in historic Gettysburg, Pa. Since its founding, the company has evolved from a small print operation into a full-service graphic communications firm with a keen focus on delivering results for clients through the execution of various custom workflow partnerships, media campaigns, traditional marketing collateral items, and interactive/new media solutions. Graphcom believes in consistently achieving measurable results and showing a positive impact on the bottom line of its clients.
Graphcom's services include offset and digital printing, mailing and fulfillment services, online ordering, and print management solutions.
Signs by Graphcom produces a variety of banners, trade show booth displays, posters, indoor and outdoor signage, vehicle wraps, and custom fabric printing materials.
Field & Floor FX, a division of Graphcom, specializes in digital flags, backdrops, scrims, and digital floors to meet the needs of drum corps, marching bands, indoor color guard, and percussion ensembles.
Graphcom Publishing is a division of Graphcom that specializes in producing niche publications, including Celebrate Gettysburg magazine and Frederick Gorilla magazine.
—30—