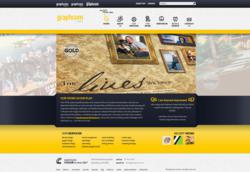 For more than three years, we have been providing tools to take clients' ideas from concepts into reality. We have designed this site to show people what we're all about and how we can help them in their marketing efforts. - Troy Dean, Creative Director
Gettysburg, Pa. (PRWEB) November 14, 2012
Graphcom Creative, a division of Gettysburg-based Graphcom, Inc., officially unveiled the new Graphcom Creative website (http://www.graphcomcreative.com), an online portal for the company's growing portfolio of print and web design and development work and other marketing services. The site offers instant access to the inner workings of the three-year-old marketing firm, including inspired designs from client projects over the past three years and resources and information for prospective clients seeking ways to maximize their marketing efforts.
The new graphcomcreative.com website combines the best of Graphcom Creative's marketing prowess, organized with the user in mind. Visitors to the site can easily navigate graphcomcreative.com by service interest — whether they're seeking information for a website design, the development of a mobile app or the production of a full-color annual report. In addition, the site's "look and feel" echoes the design esthetic and creative excellence that clients have come to expect from materials produced by Graphcom Creative.
"We've been told by people all the time, 'You do such outstanding work for your clients, but why don't you have a website for yourself?'" said Troy Dean, creative director for Graphcom Creative. "Well, it's because we've always been doing work for everyone else. For more than three years, we have been providing the tools to take our clients' ideas from concepts into reality. We have designed this site to show people what we're all about and how we can help them in their marketing efforts. It's been a long time coming and I'm thrilled that it is now available to show the world what we are capable of."
Featuring client case studies, design portfolios and marketing services information, the site also highlights the work of two publications produced by the company — Celebrate Gettysburg, a bimonthly lifestyle magazine devoted to highlighting life in Gettysburg and Adams County, and Frederick Gorilla, a current events magazine for Frederick, Md. covering topics relating to business, life and politics.
Visitors to the site also have the opportunity to submit RFPs for projects and learn about the people who make up the creative core of Graphcom Creative's staff — the people behind the words, designs and web codes.
"This web launch is an important company priority because we know what a huge promotional opportunity the Internet presents for us, especially given our depth of knowledge and expertise in the web design and development arena," Dean said. "The graphcomcreative.com site allows us to indirectly demonstrate our capabilities by showing a product that we conceptualized, designed and developed ourselves – all by using our own in-house talent."
The site is supported by a custom content management system (CMS), developed exclusively by Graphcom Creative. This custom content management system is also used in the development of websites for many of Graphcom Creative's web clients.
The graphcomcreative.com site will continue to evolve with additional components that could include video tutorials, sample marketing plans for businesses, company white papers and other sources for creative inspiration. The website is being promoted across all of the company's social media platforms.
Graphcom Creative was established in 2009 by Troy and Jessica Dean, lifelong residents of Adams County and owners of Celebrate Gettysburg magazine. Its services cover the following areas: print design, web design and development, email marketing, SEO consultation, mobile app development, copywriting, photography and public relations services.
Graphcom Creative's parent company, Graphcom, Inc., is marking its 30th anniversary of operations in 2012. Founded by S. Gregory Allen in 1982, Graphcom has grown substantially from its humble beginnings as a traditional printer. Through the years, the company has expanded its services while keeping its original mission of always putting the client's needs first. This unique approach has helped the company form solid partnerships in order to provide overarching print management solutions for a wide range of loyal clients for close to three decades.
About Graphcom, Inc.
Founded in 1982 by S. Gregory and Christine Allen, Graphcom, Inc. is a full-service marketing and publishing firm and G7 Master Printer located in historic Gettysburg, Pa. Since its founding, the company has evolved from a small print operation into a full-service graphic communications firm with a keen focus on delivering results for clients through the execution of various custom workflow partnerships, media campaigns, traditional marketing collateral items, and interactive/new media solutions. Graphcom believes in consistently achieving measurable results and showing a positive impact on the bottom line of its clients.
Graphcom's services include offset and digital printing, mailing and fulfillment services, online ordering, and print management solutions.
Graphcom Creative, a division of Graphcom, is a full-service marketing and creative firm specializing in public relations and marketing solutions, graphic design, web design and development, mobile app design and development, e-mail marketing, SEO/SEM consultation, and writing and editing services.
Signs by Graphcom produces a variety of banners, trade show booth displays, posters, indoor and outdoor signage, vehicle wraps, and custom fabric printing materials.
Field & Floor FX, a division of Graphcom, specializes in digital flags, backdrops, scrims, and digital floors to meet the needs of drum corps, marching bands, indoor color guard, and percussion ensembles.
Graphcom Publishing is a division of Graphcom that specializes in producing niche publications, including Celebrate Gettysburg magazine and Frederick Gorilla magazine.
—30—