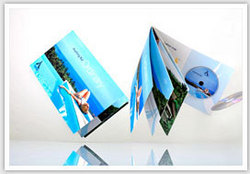 We are able to provide quality brochures design at affordable rates, as work is done in-house and not outsourced. Client involvement at various stages of designing process is the key to our success
Koh Samui, Thailand (PRWEB) July 31, 2010
IT Graphix, an affordable Graphic Design company, capture their years of designing experience and skill in bringing out a variety of brochure designing packages to cater to the need of every business, be it a startup, small, midrange or large corporate. The modern brochure designs are helpful in creating a positive image of the businesses in customer minds.
At IT Graphix, brochure designers make use of the latest technology in conceptualizing company brochures. This will ensure that the work quality is top-notch and confirm to international standards. An elegantly simple business brochure best conveys a company's message loud and clear.
The brochure design packages are compiled from years of designing for corporate clients. While some prefer flyers, leaflet design, others opt for bi-fold, tri-fold or gate-fold brochures. With the web gaining prominence in the marketing world, e-brochures are also not far behind in demand. Across packages, IT Graphix guarantee client satisfaction.
For each package, clients are offered two design concepts to choose from, with six revisions. The most enticing feature of the packages, other than their brilliant designs, is the affordability. With these packages, businesses from startups to corporate can have their own individualistic brochures without going broke.
Not only do the brochures grab eyeballs, choosing and ordering one has never been easier. Clients just need to select the most suitable one from the brochure example packages offered and provide the design brief, with special requests if any. Clients can send in their photos or make use of the free photos from the stock photo gallery. The first concept is delivered within 5-7 business days for review by the client. The first three revisions are offered free, with each taking 3-4 business days.
"We are able to provide quality service at affordable rates, as work is done in-house and not outsourced. Client involvement at various stages of designing process is the key to our success," says Jod Kapilakan, co-founder and chief marketing officer of IT Graphix.
"We have devised our business brochure design packages based on client needs as seen in our stint in the industry. Client satisfaction reigns supreme in our endeavor, with cost-effectiveness coming a close second," adds Kapilakan.
IT Graphix undertakes business brochure designing, graphic design brochures and brochure printing. Also on offer are brochure design templates and brochure design samples.
About IT Graphix
IT Graphix is a well-established graphic design company based in Thailand. Over years, it has gained the trust and approval of hundreds of clients from startups to corporate. While its humble origins helps in understanding the bewilderment faced by startups, the vast experience with blue-chip clients comes in handy in day-to-day dealings. Even as the emphasis is on quality, the budgetary restraints of the clients are always kept in mind while designing brochures. With constant client interaction, IT Graphix is able to create the brochure of dreams for their clients.
# # #