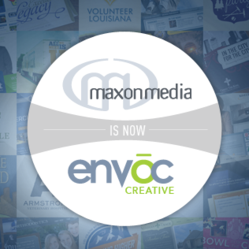 We're excited to now be part of Envoc. -Ron McDaniel
Baton Rouge, LA (PRWEB) January 17, 2012
Envoc, a Louisiana-based custom software development and application hosting company, announced today that it has acquired Maxon Media, a full-service, strategically-driven interactive design agency based in Baton Rouge, Louisiana.
The acquisition officially closed on January 3, 2012 and will mean a significant expansion of capabilities and client offerings for Envoc, including an entire menu of additional services for new and existing clients. Currently, Envoc's expertise lies in creating custom software that fits the unique way companies do business. Through the acquisition of Maxon Media, Envoc has established a new creative wing of the company called "Envoc Creative." This creative wing will offer additional services focused on design and branding through initial concepts, print, web, mobile and beyond.
"The care and feeding of a company's brand should extend to any place that brand is displayed, marketed, and consumed," said Calvin Fabre, Founder of Envoc. "Maxon Media's careful and measured style of brand management for its clients is matched only by its reputation in the industry as a thriving team of creativity, integrity and professionalism. Maxon's operation fits squarely within our mission of providing our clients with 'A Better Reality.' This merger is the perfect marriage of technology and creativity. Combining our offerings will allow us to nurture our existing client relationships while continually forging new ones. We're proud to have this incredible pool of talent join our team and we're very enthusiastic as to what the future holds for our company and our clients."
Maxon Media is an award-winning design firm which was founded in 2004 by Ron McDaniel and Michael W. Lipe. Maxon has attracted some of the best design talent in the industry and has done design work for many high profile clients since it's inception.
Commenting on the acquisition, Ron McDaniel, Founder and Chief Executive Officer of Maxon Media, said: "We're excited to now be part of Envoc, a proven leader in software integration and mobile app development. This is a natural fit for Maxon Media as our teams have a long history of working together on client projects, but under two banners. Under one banner, both functionality and productivity will be increased. The entire Maxon family and I are pleased to continue the commitment to our clients whom we treasure."
About Maxon Media
Maxon Media is a full-service interactive design agency with expertise in strategic interactive design while providing innovative digital solutions that reflect evolving trends in the marketplace. Maxon Media builds value and extended relationships through multimedia solutions for everyday needs. Its environment is fast-paced and full of ideas and hiring intelligent, hard-working professionals with various skills and backgrounds. Maxon Media's success derives from strategic thinking, creative applications and dedicated relationships.
About Envoc
Envoc is a Louisiana-based software consulting, mobile and web development, and hosting firm currently providing software programming, support, and application hosting services to commercial and governmental clients. Envoc recently attained the Microsoft Silver ISV/Software Solutions Competency with its no-code mobile application platform, Appmelt. Envoc has development offices in Baton Rouge, Hammond, and Houston. The Hammond office is currently under the wing of the Southeast Louisiana Business Center and is benefiting from the business-friendly environment and resources available for growing businesses. For more information contact Calvin Fabre at (225) 910-8239 ext 101 or visit http://envoc.com.
###