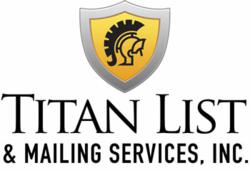 it's perfect timing to begin moving into traditional advertising as an additional service to the success we've had in direct marketing
Deerfield Beach, FL (PRWEB) August 15, 2012
Titan List and Mailing Services, a leader in direct marketing, recently announced they have added a more traditional advertising service to their company. They will be offering graphic design for logos, brochures, flyers, and websites. Titan List has been firmly established in the data list and direct mail advertising industry for over 14 years, so the creative services will work in conjunction with infrastructure already in place. Jared Braverman, Creative Director at Titan since 2011, will head the new ad-branch of Titan List and Mailing Services. Justin Restaino, Vice-President of Titan List, explained that expanding into conventional advertising was a logical next step.
"We're coming off a very strong summer in which we broke several company records for sales and add-drops," said Restaino. "We think it's perfect timing to begin moving into traditional advertising as an additional service to the success we've had in direct marketing. The two businesses really work hand in hand."
Titan List and Mailing Services have been entrenched in the printing and mailing industry since 1998, growing from a simple list brokerage company into a self-sufficient direct marketing firm. Titan's primary focus on intensive, specifically targeted data gathering for direct mail campaigns gradually led the company into the more traditional function of an ad agency that focuses on brand identity.
"We have clients come to us that want to increase their bottom line and we've been very successful in helping them do that," said Braverman. "But their business materials—logos and previous ads— sometimes don't have a cohesive brand identity, or they just need our help in creating new advertising collateral such as brochures, postcards, logos, or websites. We update their look so their ads don't fall on deaf ears. We can get our clients in contact with interested customers, but if the ad doesn't look professional or convey the right message you're essentially leaving money on the table."
Braverman has worked in the print advertising and technology sectors for over a decade. He began his graphic design career while in college with Elite Clothing, a unique garment line that combined freehand and digital art. Throughout his career his work has been used by numerous corporations and featured in a variety of magazines.
"Graphic design is a lot of fun. I really enjoy working with a new client and transforming their business into a recognizable entity. Brand identity is so important in a fickle economy that forces you to stand out or get out of the way."
ABOUT TITAN LIST & MAILING SERVICES, INC.
Titan List & Mailing Services is a full service direct marketing agency specializing in direct mail, printing, data lists (mail or phone lists), graphic / web design, and internet marketing / SEO. The company has been in business since 1998, and has a spotless track record and an A+ BBB rating. Titan's team of highly qualified individuals has experience in marketing trends that fit your business. Unlike other agencies that outsource their work, Titan List handles your entire campaign in-house - Data Lists, Design, Printing, Mailing, and Postage - All under one roof
For more information please call or visit:
http://www.TitanLists.com | 800.544.8060