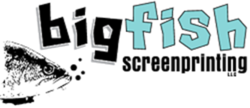 I'm excited to start working with the awesome staff at Bigfish!
Springfield, MO (PRWEB) February 22, 2013
Bigfish Screenprinting, a Christian-based company operating out of Springfield, Missouri, is excited to announce the newest arrival to their graphic design team, Ian Yates. Yates is an experienced graphic designer, with particular expertise in the areas of typography and color.
Bigfish Screenprinting began in 2001, as a business with one employee, and has grown to a business with 13 employees. The Missouri-based screen printing company operates with the mentality that the best type of business is run with integrity and in a manner that glorifies God at all times. In addition, the company works to provide employees with a positive working environment that promotes encouragement.
The owner of Bigfish Screenprinting had previous full-time ministry experience, and she works to bring those ideals to the workplace. The company emphasizes the understanding of customer issues such as limited budgets, and they regularly work with non-profits and fundraisers to provide custom t-shirts and other printed materials.
As the newest addition to their staff, Yates has an extensive education background in graphic design. He attended Southwest Baptist University, and then moved to Ozarks Technical Community College to complete an Associate's degree of Applied Science in Graphic Design Technology. From there, Yates graduated from Pittsburgh State University with a Bachelors of Science in Technology Majoring in Graphic Communications with a Graphic Design Emphasis.
In addition to his educational background, Yates also has experience working with companies such as Jock's Nitch in Pittsburgh, Kansas, as well as Crossroads Designs LLC, in Nixa. Yates has also had the opportunity to do screen printing for organizations including Kansas University Athletics, Pittsburgh State University, a Christian clothing line called Gardenfire, and a variety of other Christian organizations.
Yates, who enjoys live music and the outdoors, is excited to bring his talents and experiences to the Bigfish Screenprinting graphic design team.
"I'm excited to start working with the awesome staff at Bigfish," said Yates. "It's a great feeling to be able to work alongside so many talented people"
About the Company
Bigfish Screenprinting was started in 2001 in Springfield, Missouri. The business operates with Christian values, and provides services including graphic design, screen printing, embroidery, custom art and promotional products. The company's website is http://www.bigfishtees.com, and the contact phone number is 417-869-1700. For more information or to place an order, contact Ginny in the sales department - sales(at)bigfishtees(dot)com.