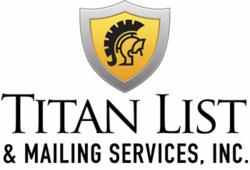 Demand has been crazy with mortgage shops wishing to target HARP or FHA candidates
Deerfield Beach, FL (PRWEB) April 11, 2012
Titan List & Mailing Services, Inc., one of the largest mortgage marketing firms in the United States, is expanding their corporate office to larger facilities. Their combined monthly advertising is estimated to reach millions of businesses and consumers every month.
"Demand has been crazy with mortgage shops wishing to run direct mail campaigns targeted to HARP or FHA candidates, due to the new version of HARP 2.0 Home Affordable Refinance Program, and expanded FHA guidelines. Titan List has also recently added new graphic design and internet marketing departments, which have been in high demand with new and existing clients. In April 2012, we will be re-locating to larger corporate headquarters," said Jared Braverman, creative director and SEO at Titan List.
Titan List began in 1998 as a list brokerage and has since grown to be a leading direct mail mortgage marketing firm. Today they are expanding their operations to keep up with the elevating demand for direct mail advertising, and to increase their service offerings with the graphic design and internet marketing departments. As of April 20, 2012, Titan List will be relocating to their new corporate location in Deerfield Beach, Florida. The address and new service offerings can also be found on their website at: http://www.TitanLists.com.
ABOUT TITAN LIST & MAILING SERVICES, INC.
Titan List & Mailing Services is a full service advertising and design agency specializing in direct mail and mortgage marketing, mailing lists and data lists, internet marketing and SEO, and website design/ graphic design. Titan List has been around since 1998, and has a team of highly qualified individuals with experience in the marketing trends that fit your business. Unlike other agencies that source their work out, Titan List handles the entire campaign in-house - Data Lists, Design, Printing, Mailing, and Postage.
For more information please call or visit:
http://www.TitanLists.com | 800.544.8060