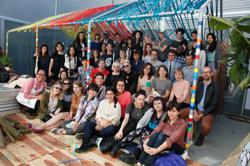 The power faculty and visiting artists hold in shaping the development of student's lives cannot be under estimated.
Los Angeles, CA (PRWEB) June 26, 2013
Otis College of Art and Design's MFA Graphic Design Program hosted its 3rd annual design symposium, "Work and Play: Variations in Design Practice" on June 15, 2013. A core component of Otis' MFA Program, the symposium, in conjunction with Design Week, introduces students to the international design community with a series of workshops and lectures led by outstanding practitioners carefully curated from around the world. This year, designers came from the Netherlands, England, France, and Mexico.
"The power faculty and visiting artists hold in shaping the development of student's lives cannot be under estimated," said Kali Nikitas, Founding Chair of MFA Graphic Design at Otis. "Visiting artists expand the minds of the students, faculty are inspired by the practice of these visitors, and students from Otis and peer institutions build meaningful relationships that live on in their personal and professional lives."
Design Week began with each visiting artist presenting a creative brief to Otis MFA Graphic Design candidates, and students from art colleges in the Netherlands, Belgium, and Los Angeles. Teams of students, faculty, and artists participated in workshops throughout the week to realize the outcomes of the creative briefs. The week culminated with a final critique and symposium, "Work and Play", providing a venue for the international visiting artists to present their studio philosophy, projects, inspirations, successes, and challenges. Design Week offers students a unique opportunity to collaborate with peers and successful designers from around the world, sharing their working methods in an intimate collegial setting.
Support for the symposium and Design Week came from The Consulate General of the Netherlands.
2013 "Work and Play" visiting designers included:
MORAG MYERSCOUGH + LUKE MORGAN (London, UK)
PINAR + VIOLA (Amsterdam, NL)
JEAN FRANCOIS PORCHEZ (Paris, France)
ERIK De HAAS (Eindhoven, NL)
ALEJANDRO QUINTO (Mexico City, Mexico)
TEAM Thursday (Rotterdam, NL)
RAW COLOR (Eindhoven, NL)
Otis Graduate Graphic Design Program
The MFA Graphic Design program at Otis is limited-residency. Students come together for 8 weeks each summer. To acquire an MFA they must complete three summer sessions and two on-site or off-site sessions. Design Week kicks off the summer sessions and it powers students through the remaining 7 weeks of the program.
About Otis College of Art and Design
Founded in Los Angeles in 1918, Otis College of Art and Design prepares diverse students of art and design to enrich the world through their creativity, their skill, and their vision. The College offers an interdisciplinary education for 1200 full-time students, awarding BFA degrees in Advertising, Architecture/Landscape/Interiors, Digital Media, Fashion Design, Illustration, Graphic Design, Product Design, Painting, Photography, Sculpture/New Genres, and Toy Design; and MFA degrees in Fine Arts, Graphic Design, Public Practice, and Writing. Continuing Education offers certificate programs as well as personal and professional development courses. Additional information is available at http://www.otis.edu.