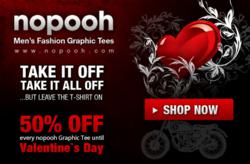 What do men want for Valentine's Day? The printable answer is a cool t-shirt from nopooh.
(Vocus/PRWEB) February 01, 2011
What do men want for Valentine's Day? The printable answer is a cool t-shirt from nopooh. Feel the love at nopooh - where nopooh appreciates shoppers twice as much with a half-off Valentine's Day sale. Flowers make one sneeze, candy rots the teeth, but nopooh's graphic tees make a man ruggedly handsome. Go on, be a romantic superhero in cool t-shirt designs like Honor and Faith from the Shields series. Planning a romantic dinner? Plan to look the part with an awesome t-shirt from nopooh.
Valentine's Day should not be a one-way street - it takes two to tango. Provide an oh-so-subtle hint by leaving the browser on nopooh.com showing favorite designs from nopooh's Motocross, Jets, Shields, Rods or War and Peace series. Valentine's Day is for lovers and self love counts.
Upgrade the winter wardrobe with a flash of vintage motorcycle iconography under the winter woollies. Stripping down to something more comfortable has never been better looking. With spring around the corner, a nopooh graphic tee is a gift that lives on with a promise of warmer days to come. At 50% off, nopooh's graphic t-shirts are simply irresistible. Every nopooh tee comes with a free 4" square sticker with an exclusive nopooh design in vibrant color. After the sale is over, nopooh members save 10% on every tee, for life.
Brooklyn-based nopooh was founded in 2008 with the mission of producing high quality fashionable men's graphic tees. nopooh is the collaboration of graphic designer Rob Tanner and fashion and fine art photographer Mark Babushkin. nopooh t-shirt designs feature striking, imaginative graphics and function as stylish components of a man's contemporary casual wardrobe. nopooh's coolly classic, beautifully printed images are drawn from international iconography and vintage Americana, and always complement – never overwhelm – one's choice of attire. Very limited editions of each special, nopooh graphic tee are hand screened on superior quality, 100% cotton American Apparel tees.
###