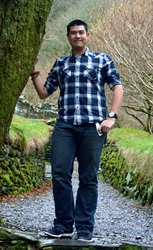 Our time at Ex'pression will give us a competitive advantage in the job market. We've learned the programs and software needed to be successful graphic designers as well as little tips and tricks to wow employers and tighten up our designs.
Emeryville, CA (PRWEB) August 12, 2015
Ex'pression College students Trevor Forry and Marlen Monter, both of whom are entering their senior year at the school's Emeryville campus, have won a commercial/filmmaking contest with their clip "Killer Soap", a tongue-in-cheek homage to teen horror films. The contest was sponsored by Zion Health, a San Francisco-based online retailer of skin care and detox products.
Zion Health's goal with the contest was to have students in Ex'pression's Advertising Concepts and Strategies class create a spot that would inspire TV viewers and web users to visit their website. The company wanted the student-created ads to be - in the words of Zion Health's director of sales Marie Holmes, who coordinated the contest - "unexpected, humorous, and bordering on irreverent so they would surprise the audience". "Killer Soap" was selected as the winning submission based upon online audience viewings and votes.
"Trevor and Marlen are motivated, hard working, creative, and eager to learn," says Ex'pression College Emeryville Producer/Filmmaking Instructor Mike Russell, who teaches the Advertising Concepts and Strategies class. "They aren't afraid to attempt big ideas, and are willing to fail in their bold experiments as they figure out how to get them right. As a team, they handled the pressure of meeting their project's deadlines, revising and fixing edits, tweaking sound cues, mixing and remixing audio, completing and compositing their mo-graph elements, and handling their color correct with surprising composure - even though I know they were stressing."
Forry is a native of Gilroy, CA and graduated from Mount Madonna School in Watsonvile in 2009. Marlen, who hails from Pittsburg, CA, attended Pittsburg High School and graduated in 2013. Both developed their passion for creative media during their high school years, and in their senior years, they also both became aware of Ex'pression College.
The two were fans of Ex'pression's small size, innovative layout, and the ability for students to graduate in 2 ½ years with a bachelor's degree because of Ex'pression's fast track program. Monter found Ex'pression's affordability and location to be the deciding factors for her to enroll.
"The faculty at Ex'pression is fantastic," says Forry. "The curriculum has helped me to learn more about graphic design and also to think in more creative ways with each new project and assignment. The small classes have made it possible for me to establish really great bonds with my classmates."
Monter shares Forry's enthusiasm about Ex'pression, adding "I'm learning about how the industry works in the real world, thanks to the amazing career experiences that our teachers have had and have shared with us."
After graduating from Ex'pression in 2016, both students will aim to begin their graphic design careers in Los Angeles or New York.
"I believe that our time at Ex'pression will give us competitive advantages in the job market," says Forry. "Not only have we learned the programs and software needed to be successful graphic designers, we've also learned little tips and tricks to wow employers and tighten up our designs that other art schools might not teach. And that's all thanks to the amazing faculty."
About Ex'pression
Ex'pression College is a digital arts college in California's San Francisco Bay Area, offering Bachelor of Applied Science degrees in Sound Arts, Interactive Audio, Graphic Design & Motion, Digital Filmmaking, Animation & Visual Effects, and Game Art & Design. Ex'pression's courses are accelerated, class sizes are limited, and the faculty is staffed with experienced industry professionals. At Ex'pression, students use professional-grade equipment and facilities, and receive a hands-on educational experience in working environments that emulate the industries they'd love to be a part of. Ex'pression College was acquired by SAE Institute in 2014.
About SAE
SAE Institute provides aspiring creative media professionals with a foundation of practical theory and valuable hands-on training in their chosen areas of concentration. Under the guidance of our faculty, which is comprised of working industry professionals, students gain the essential experience they need for entry-level jobs in the entertainment business. Our students are supported in their job searches by SAE's international network of alumni, many of whom are leaders in the music, film, game arts, and live performance arenas. We offer programs in audio technology across our seven US campuses, along with a music business program at select locations, all fully accredited and focused on preparing students for employment when they graduate. Bachelor's Degree programs in Animation, Audio, Film, Game Art & Graphic Design are available at the two locations of Ex'pression College, which is owned and operated by SAE Institute Group, Inc. SAE Institute Group, Inc. is a part of Navitas LTD. Learn more at USA.sae.edu.