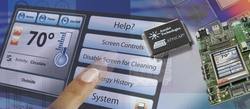 We designed this new headquarters to be an environment that promotes communication, creativity and innovation.
Campbell, CA (PRWEB) August 6, 2008
When employees at Amulet Technologies celebrate the company's 10th anniversary this month, they'll be uncorking champagne in a brand-new headquarters facility in Campbell, Calif. Amulet, a fabless semiconductor company specializing in graphical user interface (GUI) chips and firmware, relocated to the new facility to better support the demands of its growing product line and customer base. Amulet plans to expand its line of GUI chips this fall, and the new facility will provide a solid foundation for meeting increased demand and supporting continued growth. Additionally, the company has been expanding globally and recently added new distributors in North America and Europe.
With the move, Amulet nearly tripled its office space, which now includes a larger research & development center, additional meeting rooms, quality testing lab, employee lounge and lunch area, and a larger warehouse to accommodate increased inventory.
"This move is the perfect metaphor for 10 years of steady, continuous growth, as well as an indication of our plans for the future," said Ken Klask, Amulet's founder and CEO. "We needed a facility that would meet our company's growth and serve the needs of our employees today and into the future," said Klask, adding, "We designed this new headquarters to be an environment that promotes communication, creativity and innovation."
About Amulet Technologies:
An industry leader in human interface electronics, Amulet Technologies is a semiconductor company specializing in chips and firmware that drive liquid crystal displays (LCDs). Amulet's unique Graphical Operating System in Silicon™ enables manufacturers to cost effectively integrate a visually appealing graphical user interface (GUI) into their products to enhance the end user's experience. Amulet's display solutions - which range from display controller chips to fully integrated modules - simplify the product development cycle by separating GUI development from the application's development. This approach enables engineers to focus on making the product work, while freeing the design team to create an appealing and effective GUI. For more information, visit http://www.amulettechnologies.com.
Amulet's new address is: 700 Gale Dr., Suite 190, Campbell, CA 95008
###