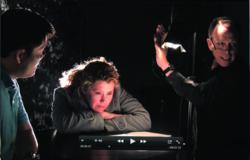 "The list of non-profit clients of the Digital Arts Center continues to grow and we are proud to be a part of these organizations' positive impact on the community.''
San Diego, CA (PRWEB) June 22, 2011
UC San Diego Extension's Digital Arts Center gives back to local non-profits and the students in the programs gain real-world, hands on client experience. For the past nine years, the coursework in the graphic & web design and video production training programs has included a long list of non-profits companies as clients. Thanks in part to Parker Pike's (Marketing Manager for UCSD Extension) active philanthropic involvement; many of the non-profit companies that DAC works with are vetted through the San Diego Social Venture Partners and through the American Marketing Association's annual Cause Conference Olympiad Competition.
The Digital Arts Center graphic and web design program participates in developing and communicating the company's marketing strategies by providing branding, logos, brochures, web content and websites. Companies solidify their industry images with the expertise and guidance of the DAC instructors and students. For many non-profits, this is a critically beneficial resource that helps to grow their organization. Currently the students are working with Reading Legacies, Audeo Charter School, Emilio Nares Foundation and Barrio Logan Institute.
The Video & Editing program teams up with non-profits to create public service announcements, promotional videos to assist in raising awareness and in fundraising, testimonial videos, and video content for websites. Currently the video production training program is working closely with founders Diana and Richard Nares, of the Emilio Nares Foundation, collaborating on a student-authored P.S.A. entitled "More Time"-- shot entirely on location in San Diego.
The "More Time,'' PSA attempts to reach a broad general audience with an emotionally uplifting narrative highlighting the courage of families as they seek resources to guide them through the devastation of their child's cancer diagnosis. The student filmmakers alternate crew positions, while gaining in practical film set experience -- all while helping a local San Diego based non-profit organization.
Susan Varnum, Director of the Digital Arts Center notes that "The list of non-profit clients of the Digital Arts Center continues to grow and we are proud to be a part of these organizations' positive impact on the community.'' Angels Foster Family Network, Human Development Foundation, Fresh Start, Jean Isaacs Dance Company, Elderhelp of San Diego, Surf City Squash, TKF-Tario Khamisa Foundation, Alzheimers Aid Society, Art-a-Fair, KPBS, Community Resource Center, Save our Parks Foundation, San Diego Survivors of Torture, Elizabeth Hospice, Pazzaz, Corporation for Supportive Housing, Balboa Park Cultural Partnership, Mission Federal, San Diego Education Fund (SDEF) , Meadowlark Community Church -C.A.T.C.H. and Corporation for Supportive Housing.
For more information about the UC San Diego Extension|Digital Arts Center career focused programs in graphic & web design, casual gaming, mobile applications and video & editing training programs, view the website at dac.ucsd.edu, see a short demo of the video & editing students work on YouTube.
UC San Diego Extension is a division of the university's Extended Studies & Public Programs, offering 100+ professional and specialized certificate programs in a variety of disciplines. Nearly 50,000 adult learners attend classes each year at its facilities on the UCSD La Jolla campus, the University City Center, and the Mission Valley Center.
###