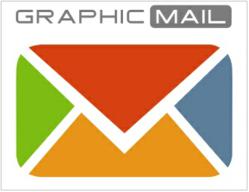 We've designed our free mobile site creator to give small, budget-conscious businesses the same opportunities as larger companies are afforded.
(PRWEB) August 31, 2012
GraphicMail, a leading global hosted email marketing solution, today announced the launch of its new mobile editor that makes it simple for their clients to build and launch a mobile site in minutes, promote it via social media and SMS short code keywords - all with virtually no programming or design experience required.
"We've designed our free mobile editor to give small, budget-conscious businesses the same functionality as what larger companies can afford," said Barbara Ulmi, Marketing Head at GraphicMail. "With our mobile editor, if you can point and click, you can build a mobile site."
This development has made it possible for businesses, who are clients of GraphicMail and of all sizes to now have a faster, easier and more affordable way to create their own full-featured, user-friendly mobile sites as well as being within reach of their customers wherever they are.
Mobile Site Design Made Easy
GraphicMail's new mobile editor browser-based dashboard gives small businesses the ability to capitalize on the mobile marketing phenomenon to capture, target and engage with new and existing audiences—and potential customers which would benefit from their services.
According to a new study from the World Bank, approximately three quarters of the world's population now has access to a mobile phone:
The number of mobile phone subscriptions has skyrocketed over the past 12 years. Fewer than 1 billion mobile subscriptions were active in 2000, while there are six billion subscriptions active today.
Other research data indicates that of the more than 7 billion people on the planet; 5.1 billion own a cell phone. Globally, there are more mobile phones on earth than there are TVs, and 91 percent of U.S. citizens keep their mobile device within reach 24/7.
Mobile technologies have quickly gained momentum as the go-to choice for reaching consumers who are increasingly dependent on their handheld devices for just about everything.
Ulmi says these staggering numbers present an incredibly valuable, yet potentially overwhelming opportunity to businesses and nonprofit organizations of virtually any size:
"Most marketers think that a mobile site builder costs a lot of money and requires specialized expertise - neither of which are plentiful in most organizations," she said. "Our mobile editor shatters this misconception by putting an easy to use, fast and affordable tool right at your fingertips."
The vast majority of today's mobile subscriptions are in developing countries, where land-based communications infrastructures are often below standard. The challenge now is to enable people, businesses, and governments to develop their own locally-relevant mobile sites so they can take full advantage of these opportunities.
Mobility has come to mean connection, a more sophisticated and user-friendly online experience, location-centric selling and tailor-made offerings.
GraphicMail's free mobile editor makes building and launching a mobile site easy. Simply log-in or create a GraphicMail account, click on mobile editor and then:
1) Choose from one of dozens of pre-designed templates or create your own look with custom color scheme.
2) Upload your logo
3) Add pages, text, images, hyperlinks and more to fully customize your site.
A preview window automatically updates with every change to let you see, in real-time, exactly how their clients' site will look on a mobile device.
Launch, Share and Promote in Just a Few Clicks
In addition to making it easy to build a site, GraphicMail's mobile editor makes it ultra-simple to promote it. Drop in social networking buttons for their users to share their entire site or individual pages via Facebook, Twitter, Google+ and more.
GraphicMail's innovative product marries mobile sites and push-marketing by way of a personalized web-link within bulk SMSs. Once the site has been created, it can be delivered directly to subscribers' phones with a simple click-through from a text message; getting right in viewers' faces. The service even tracks mobile user response, to allow GraphicMail's users know who, how and when subscribers accessed their mobile site. Their service fees are only charged once GraphicMail's users distribute links to their mobile sites via bulk text campaigns.
The key advantage of this software is that it gives any of their clients all the tools they need to reduplicate their existing website to make it appropriate for the small screen, removing the need to spend lots of money having mobile sites or apps developed by a third party.
Add SMS Marketing with Short Code Keywords
Users can also take advantage of the GraphicMail Short Code Service to connect with their audience, sign up new subscribers and give mobile users an easy way to access mobile content via SMS text messages.
Here's how it works: businesses rent specific key words on the GraphicMail Short Code. Mobile users can text this keyword to the shortcode to subscribe to a mailing list, sign up for special deals and updates, and more. The Short Code Service builds a database of mobile subscribers within the GraphicMail account that can be used to send future updates and notifications.
The new mobile editor is part of GraphicMail's complete, user-friendly email, social and mobile marketing suite. For more information, visit http://www.graphicmail.com.
About GraphicMail
GraphicMail is a hosted email marketing solution which lets users design newsletters, manage contact lists and track campaign performance. The platform provides bulk email software that's easy and affordable enough for small businesses, yet powerful for large companies looking for a corporate-scale solution. GraphicMail offers mobile marketing services, such as bulk SMS / text campaigns and SMS sends with links to mobile sites that can be tracked and analyzed. They also offer social media integrations in the form of social sharing features and social data gathering tools. The company's email newsletter services has been used by customers such as, Shell, the American Medical Association and Dell Empower since 2002. The product is available in 11 languages and is represented by 20 offices globally.