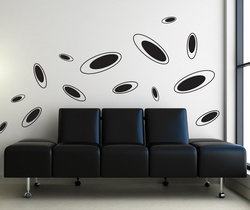 After relocating to the US we found that this European craze had yet to hit the mainstream market. We thought, what a great opportunity to launch a product that we know people love in places like Paris, Amsterdam and London
PHILADELPHIA (PRWEB) May 21, 2008
Founded by a French/American team with an affinity for design and interior décor, Surface Graphics is devoted to bringing high quality, uniquely designed wall decals into the home or office. So much more than wall decals, the graphics range in size from a few square inches to several square feet and can be used on any flat surface, including small items like laptops, mirrors or furniture. Custom designs, sizes and colors are also available.
While shopping in Paris in 2006 the company's cofounders stumbled upon this European sensation and quickly became fans of wall decals as a way to decorate their own homes. "We discovered wall decals in a few shops in Paris and immediately saw their potential for our own spaces," said Julien Gasparac, co-owner of Surface Graphics.
"After relocating to the US we found that this European craze had yet to hit the mainstream market. We thought, what a great opportunity to launch a product that we know people love in places like Paris, Amsterdam and London," said Gasparac. Born and raised in Paris, France, and also having lived in Cannes, Casablanca, the Middle East and Yaoundé, Cameroon, Gasparac incorporates images and aesthetics inspired by the diverse cultures that he has visited and lived in along with his life long exposure to modern art, into the designs offered by the company. "Our wall decals are perfect for people who want to create something unique in their home or office space, but don't have the time or resources to tackle a bigger job like painting or wallpapering."
The team is based in Center City Philadelphia, where they collaborate on the design and manufacture of the products. They work to create a diverse product line that will inspire a wide range of consumers. From the edgy urbanite who may be drawn to the Urban Jungle or Bones lines. To their suburban customers who appreciate the more traditional and classic images found in the Baroque, Graphic and Garden lines. "It is impossible to make something that appeals to everyone - but we enjoy trying," says Gasparac.
Surface Graphics' wall decals are an inexpensive way to personalize and add style to: Office spaces, apartments, dorm rooms, theme parties, or any space that needs a fresh look.
Current product lines include: Urban Jungle, Baroque, Graphics, Garden, Pop, Bones and Talking Walls, and offer designs including London and Paris metro maps, an electrical pylon, the New York City and Paris skylines, and quotations and words including Bon Appetit and Je t'aime (I love you). With prices beginning at $16.00, they're within everyone's decorating budget! Learn more at http://www.thesurfacestore.com.
MULTIMEDIA GALLERY http://www.businesswire.com/cgi-bin/mmg.cgi?eid=5691626