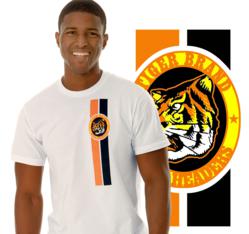 ...as Hunter Thompson put it: "Faster, faster, faster, until the thrill of speed overcomes the fear of death…
New York, NY (Vocus/PRWEB) April 05, 2011
Iconic American automotive style goes on exhibit at the Javits Center in New York City starting April 22nd. Similarly iconic American hot rod graphic tees are 20% off right now at Brooklyn NY's nopooh tees.
Great American automobile design causes jaws to drop and hearts to race at the world's premier showcase of the latest innovations in automotive form and function at the Javits Center. Aesthetics, ergonomics, and utility vie for supremacy in the hearts and minds of automotive designers and drivers alike. Or, as Hunter Thompson put it: "Faster, faster, faster, until the thrill of speed overcomes the fear of death…" Is it beauty of form, or breathtakingly superior performance that sells a state-of-the-art automobile?
nopooh has an easier question: will it be the Chrome Prowler graphic tee, sporting the famed Cunningham blue stripes, or the Eight Ball graphic tee, celebrating the ground-breaking mechanical injection system that provided a quantum leap in 'fuel on demand'? Or both? April is "put on a new nopooh tee shirt and go for a drive" month. Welcome spring with a new car, or at least a fresh oil change, AND the clean new look of a nopooh hot-rod tee shirt, at 20% off – all April.
The classic automotive graphics in nopooh's hot-rods series reference the golden age of American car racing. Event posters, vintage car and racing club shirts and jackets, driver and pit crew wear, retro souvenir tees and automotive accessory promotional tees all provided inspiration for the hot-rods series of tee shirts, celebrating the brilliance, beauty and innovation inherent in the best of American automobile design.
Brooklyn-based nopooh was founded in 2008 with the mission of producing high- end fashionable men's graphic tees. nopooh is the collaboration of graphic designer Rob Tanner and fashion and fine art photographer Mark Babushkin. nopooh tee shirt designs feature striking, well-designed graphics and function as stylish components of a man's contemporary casual wardrobe. nopooh's coolly classic, beautifully printed images are drawn from international iconography and vintage Americana, and always complement – never overwhelm – one's choice of attire. Very limited editions of each special, nopooh limited edition graphic tee are hand screened on superior quality 100% cotton American Apparel tees.
For more information, visit nopooh graphic tees at http://www.nopooh.com/
# # #