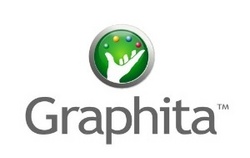 that can be shared in an instant.
SAN RAFAEL, Calif. (PRWEB) August 1, 2007
Graphita's mission is to make it easy for people to express themselves visually -- whether through blogs, media and social sites, political campaigns, photo sharing sites, in the office, at home or simply by highlighting the features of an item in an online auction.
Anyone who has attempted to use the more popular image-editing tools on the market will appreciate the ease of this entertaining application. Photos can be combined with hundreds of digital effects to create very personal messages - from moms who want to add special effects and captions in family scrapbooks, to teens who want to express an idea visually, to people who just want to make a very personal impression with a greeting card or even a t-shirt.
"We've made it easy for people to make their own creative expressions, using pictures as the canvas. It's as simple to use as a point-and-click camera," explains David Shantz, CEO and co-founder. "We believe that people are growing tired of dragging their eyes across screen after screen of written messages. A personalized picture is so much more instantly expressive, allowing people to have a "visual voice" that can be shared in an instant."
Graphita's website incorporates several technical innovations. First, people can easily share the high-resolution images they create with their friends by e-mail. Live Studio packages up small proxy images, which then link back to the original on the web -so that big files don't overfill e-mail accounts. Second, the effects rendered on Live Studio are always live and editable. If one person puts a caption on a picture, the recipient who it is shared with can change the words in the caption, add an object, and so on.
Live Studio is open and free. Graphita is currently working on integrating it's application with leaders in the image hosting and sharing world - making it possible to save images directly into accounts at other sites. Images can be exported back to a photo storage site, e-mailed, posted on a blog or website, added to a social network profile or printed on dozens of unique items such as mugs, posters, shirts and calendars through the site.
For image examples click here: http://www.flickr.com/photos/davidshantz/sets/72157600919044373
Founded in 2006, Graphita Inc is a privately funded company headquartered in San Rafael, California.