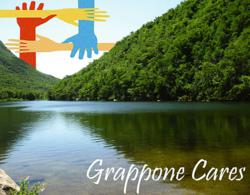 Throughout this contest we hope we are able to help generate more awareness for all the worthy causes and inspire more to get involved.
Bow, NH (PRWEB) April 25, 2013
For the third year in a row, the Grappone Cares contest will be awarding a total of $20,000 to four different charities. The contest takes place over a four month period with four charities being chosen by their fans to win $5,000.
The contest is hosted on Grappone Automotive Group's Facebook page. You must "Like" their page first in order to nominate and vote for charities. The first of four nomination rounds began on April 18, 2013 and will end at 8 p.m. EST on April 30, 2013. Voting begins at 8 a.m. EST on May 2, 2013 and ends at 8 a.m. EST on May 16, 2013. Fans can vote once every 24 hours. After voting has been completed, the Grappone Automotive Group will announce the winning charity. Shortly after the winner has been announced, the second round of nominations will begin. Grappone encourages charities that do not win the first round to nominate themselves again.
The contest is open to all New Hampshire 501(c)(3) non-profits. This contest is the combined funds of the Toyota Match Program and the Grappone Automotive Group. Any charity that has won a Grappone Cares/Toyota Match Program contest in the past is not eligible to win in 2013.
To learn more about Grappone Cares please email Danielle Roller at droller(at)grappone(dot)com or visit our Facebook page http://www.facebook.com/grapponeauto.
Founded in 1924, the Grappone Automotive Group is family owned and operated and is now in its fourth generation of ownership. This Ford, Mazda, Honda, Hyundai, Scion and Toyota dealer group is known for their expansive inventory and superior customer service. What sets the Grappone family a part is the way they value and appreciate the relationships they have formed with their communities. They believe strongly in giving back to their communities to ensure sustainable success for all. For more information please visit http://www.grappone.com.