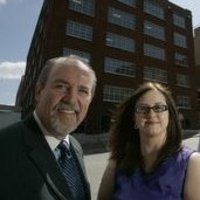 Folgers Coffee parent company J.M. Smucker's annual report says that Smucker is a company that 'does the right things, for the right reasons' ... This didn't feel right to us.
Kansas City, MO (PRWEB) May 3, 2010
As reported in the Kansas City Star, Social Media as a tool for an effective grass roots cause marketing effort hits the street in Kansas City.
Recently the partners at Evans Media Group, a Kansas City Social Media Agency heard that J.M. Smuckers was going to close the iconic old Folgers building in downtown Kansas City, MO. The building and business has been home to a coffee roasting plant for over 100 years, and after purchasing Folgers two years ago, Smuckers planned on moving the operation to New Orleans. Not huge news in the grand scheme of an American business day … this sort of change happens many times a month across the nation. Businesses morph and consolidate, downsize and close, but this particular event struck a chord with Paul Evans and Sara Paxton, owners of Evans Media Group.
As recent arrivals to the Kansas City business scene, but with a love for the city that preceded their move from the East Coast, the pair decided to lend their day job talents to the effort of asking Smuckers to reconsider.
Whether Kansas City makes you think of fountains, Jazz, Bar-B-Q or the smell of coffee, there is both an energy and comfort in this Midwestern metropolis. So when Paxton and Evans heard of the downtown Folgers plant closing and almost 200 families losing their jobs, their shoulders sagged a little at the thought of some of that comfort being taken away. As business people they realized that the decision to close the plant had probably been made months before, at a very high level within the Smucker organization. It may have been the plan all along when Smucker decided to buy Folgers in the first place. But something about this one did not sit right with Evans Media Group. The numbers probably added up right for the share holders at Smucker, but the move didn't seem to line up with their stated philosophy.
According to their own annual report Smuckers has billions in liquid assets and posted record earnings last year. The closing of the KC plant may be a streamlining effort, a plan to increase profits or any number of reasons to improve share holder portfolios. No problem there … this is America. But that is where it suddenly didn't feel right anymore. This is not a company, like may other major employers in the region, that needed to tighten its belt as a result of flagging sales. This is a company that is doing very well, but will furlough and turn its back on 180 families, some of whom have multiple members working at the plant. Smuckers annual report says that they are a company that does the "right things for the right reasons" … this didn't feel right to Evans and Paxton.
So, being that they own a social media agency, they decided to see if there was anything they could do to help. They built a fan page called "Please Don't Close The Kansas City Folgers Plant" and offered it as a forum for Kansas Citians to show their support of the workers and their families and to ask Folgers (nicely) to reconsider. The parters know that Smuckers will not reverse their entire restructuring initiative, but potentially, if they could get 30,000 or 100,000 fans to ask them nicely, they might rethink the Kansas City portion of the decision. Chairman Tim Smucker has other ties to Kansas City as a board member at Hallmark, another Kansas City business bastion and the city is also trying to do some things to get them to halt the plan to leave, but in the social media space nothing is more powerful than sheer numbers behind a cause.
"Cause marketing is just one of the things we do," said Evans, President and CMO at Evans Media Group. "Why not use our skill set in that arena for the savefolgerskc effort? There are some who have suggested that we do nothing, because it is none of our business, or because this change is inevitable, or that our efforts will fall on deaf ears and be a waste of time. To those, we say if Americans had attitudes like that, we would still be under British rule and a Black Man would not be sitting in the White House. The right to ask Smuckers to let Folgers stay is the right of the people and we are simply providing a vehicle for the ask. This is no knee jerk reaction; this is a calculated, strategic marketing effort to build a fan base large enough to at least make Smuckers listen to the request. The fan growth rate is at better than 1,000 per day and at that rate could yield a half million voices before the plant shuts down."
Sara Paxton, Managing Partner and CTO at Evans Media Group concurs, Some would rather tear down the effort than support it. That always happens when something is this successful. But whether you believe we can actually effect a change and save the jobs, want to show your support for the workers, need to let Smuckers know how you feel, want to stop a piece of the downtown Kansas City fabric from being torn out, love the smell of coffee or just want to be a part of something that feels right … you can just fan the page at facebook.com/savefolgerskc.com and we will welcome your support."
The effort has also received tremendous support from the community. Partycabs.Com, a local Checker Cab company with almost 200 cabs patrolling the Kansas City metro has installed SaveFolgersKC signs on every cab. Custom Color, a Kansas City printing company has donated bumper stickers and Ad-Trends, the national billboard company has donated two metro billboards for the effort. Most local radio stations have lent support to the cause, some posting explanatory interviews on their websites and both the NBC and CBS affiliate TV stations have covered the story of the grass roots social media effort. As the page now approaches 13,000 fans, a visit shows emotional and heartfelt comments from workers and families of workers present and past, to community support and business owners asking if they can offer jobs or help in some way.
Supporting the cause for most is as easy as clicking the "Like" button on the Facebook page, for others it is an opportunity to get involved to try to make a difference. 'We can't champion the effort to try to stop every business that wants to move out of Kansas City, "said Evans. And certainly we feel the pain of every worker that is laid off at any company, but we are going to keep up this effort until we have a voice large enough, loud enough and hopefully soon enough to ask J.M. Smucker to rethink the damage they will do to downtown Kansas City if they pull out."
Over 500,000 people recently joined a fan page to ask NBC to let Betty White host Saturday Night Live and as a result, she will in fact host SNL May 8th. The SaveFolgersKC cause has a much more far reaching purpose.To save a piece of the downtown KC feel, keep almost 200 families working and demonstrate that enough people care to stand together through social media to ask Smuckers to do the right thing.
###