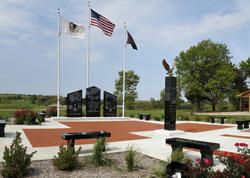 ALL GAVE SOME
SOME GAVE ALL
Canton, Illinois (PRWEB) May 13, 2013
Local Canton community organization in Lakeland Park Illinois developed a Veterans Memorial which included the GratedeX® Outdoor Flooring System™. Long term durability and stability of the memorial bricks was a critical design requirement. GratedeX® was found to be a functional solution.
In 2010, Phillips and Associates Architects, Inc (P A), a local architectural firm specializing in commercial and educational design since 1949 and a active community member, was asked to design a Veterans Memorial for Canton area veterans. They gladly agreed to aid in the design free of charge, joining a dedicated team of community members. After researching similar memorials in central Illinois, they were convinced that, to truly honor veterans, the assured longevity of the finished memorial would be just as critical as the design itself.
Prominent in several memorials we visited were fields of engraved brick pavers installed over a compacted sand base, which created a walkway displaying names of each veteran honored. Although this was a compelling feature we hoped to include in our own design, many of the memorials containing this element and installation method revealed a troubling similarity. Within the first year of installation, poor drainage, freeze/thaw cycles, and vegetation had caused premature deterioration of brick pavers and left the walking surface dangerously uneven. If we hoped to use brick pavers ourselves, we knew we needed an alternate installation method.
Proper design and construction from the ground up was critical. In construction, water is often the enemy. An outdoor memorial exposed to the elements would need multiple systems to keep nature in check. In this application, in addition to sub-surface drainage pipe and a bed of drainable stone, a reinforced concrete slab with a uniform slope, trench and area drains, the installation also used an elevated structural floor. The architect decided to use the GratedeX® Outdoor Floor System™ Float installation. The GratedeX® structural flooring panel with it's open cell structure provide a stable support for the memorial pavers while allowing water to drain through and under the floor to the drainage space below.
With the efforts, contributions and support of many individuals, the installation was completed and dedicated on June 16, 2012. DexSystems® and the GratedeX® Outdoor Flooring System™ was privileged to be a part of this Veterans Memorial and help support a solution that will provide the community years of well preserved memories.