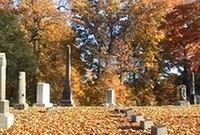 We find this business appeals to a wide variety of small business entrepreneurs. Whether a person has business experience or is just starting out, the Gravesite Business is a fun and meaningful business
Chattanooga, TN (PRWEB) January 28, 2009
Gravesite Maintenance and Attendance is a perfect small business to start with help from GraveSiteBusiness.com. GraveSiteBusiness.com has just released the latest edition of their Gravesite Care and Maintenance Business Package.
"We find this business appeals to a wide variety of small business entrepreneurs. Whether a person has business experience or is just starting out, the Gravesite Business is a fun and meaningful business," representatives from GraveSiteBusiness.com say.
The services provided by a Gravesite Business are far reaching. Flexibility of services allow business owners to shape their services around their particular interests.
"Creative people love running a Gravesite Business. While grounds maintenance and cleanup might comprise the main services of one business, other Gravesite Business owners offer services such as:

digital photography and videography of gravesites, tombstones, and cemeteries
documentation and recording services
grave decoration for special days such as birthdays
attendance services on Anniversaries as well as Christmas and Easter.
There is a never ending supply of ideas for someone wishing to start and expand this business."
GraveSiteBusiness.com believes right now is a perfect time to get started. The cost to begin this business is low and it is a fun, meaningful business to operate either part-time around an existing schedule or full-time as a career business. "There has rarely been a business that is so meaningful to clients. This truly is a feel-good business."
It is rewarding financially too. In most areas of the country there is very little (or no) competition. Business owners can name their price and customers are grateful to pay good money for the services offered.
There seems to be an infinite supply of willing customers.
Typical clients may include elderly persons wishing for special upkeep or decoration of deceased spouses' gravesites or relocated families who have family members buried nearby the Grave Site Business owner. Larger customers may include communities who hire a Gravesite Business to rehabilitate a neglected or overgrown cemetery.
The GraveSiteBusiness.com business package is a huge resource for anyone wishing to start a Grave Care Business. For more information on this fun, meaningful, and profitable business, visit their website by clicking the link below.
http://www.GraveSiteBusiness.com
###