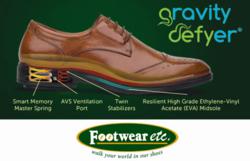 People just love how shock absorbent these shoes are.
Sunnyvale, CA (PRWEB) August 21, 2012
Footwear etc. is delighted to announce that it has received new models from Gravity Defyer. These unique shoes with their outstanding shock absorption properties and wide variety of styles have become extremely popular with consumers.
Gravity Defyer shoes contain several types of advanced technology. Designed by mechanical engineers, podiatrists, industrial designers and even applied materials engineers, these shoes utilize three distinct technological systems. The VersoShock™ high impact absorption system works like a trampoline so that your heel lands gently and the spring automatically propels you forward. As a result, impact on your feet is greatly reduced. The AVS3 Cool-Down Ventilation System harnesses the pumping action of the heel to release hot air inside the shoe through a valve, thus cooling the foot. The Perfect-Fit Sizing System even allows you to adjust the width of your shoes. All of these systems work together to produce an outstanding feel and fit of each product.
International Sales Manager Andrew Monarch adds, "Once our customers try a pair of Gravity Defyer Shoes they are hooked and come back for more. People just love how shock absorbent these shoes are."
A brand new men's shoe is the Arigato. Available in white or black canvas, this tennis-styled shoe is perfect for casual wear. It not only can alleviate foot and ankle pain, plantar fasciitis, and assorted other podiatric issues, it even adds 1 ¾ inches to your height. Women have a new shoe available called the Nivita. This shoe is available in black or brown microfiber, and is an easy-to-wear breathable slip-on shoe. This shoe is appropriate for casual wear, or even to the office. It's yet another example of the versatility of the Gravity Defyer brand.
Look for the entire collection from Gravity Defyer online at footwearetc.com and at their retail store locations in Northern California and San Diego.
About Footwear etc.:
Footwear etc. is a well-established, family-owned business, headquartered in Silicon Valley, CA since 1986. The company is committed to improving customers' quality of life by offering brand name products that demonstrate their belief in the need for healthful, comfortable and fashionable footwear. Footwear etc. operates nine retail stores located throughout the Bay Area and San Diego, and also offers their products on their website and catalog. To find out more, please visit http://www.footwearetc.com.