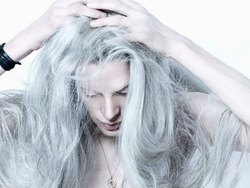 Gray Hair Epidemic: Females Under-30 Rate of Premature Graying up Almost 200%
Cheyenne, WY (PRWEB) May 2, 2011
COORGA Nutraceuticals today announces the launch of a new anti-aging website and blog that investigates the process by which men and women grays - especially prematurely. Visitors to the website can find the latest scientific summaries on what causes premature grey hair. The site is designed to be an expert resource to all who ever wondered or hoped for an explanation for their mane going gray.
Youth-obsessed folks beware! The latest teeth whitening toothpaste may make your smile appear brighter – but researchers have recently discovered that the main whitening ingredient hydrogen peroxide (H2O2) brings about gray hair. Read about whether your toothpaste causes grey hair at the new website.
Whether it's ones diet, smoking habits, stressful lifestyle or dental beauty regimen, the new anit-aging website seeks to peel back the curtain and answer that age old question as to why people gray. Visitors will find insightful articles covering the topic of premature greying. These articles are chucked full of the most up to date scientific information available on this subject matter - anywhere. Topics covered so far includes the effect of toothpaste, diet, smoking and vitamin deficiency on the current explosion of premature gray hair being visited on the current generation as compared with earlier generations.
The site is available to anyone looking to learn about how everyday routines such as using a whitening toothpaste that contains hydrogen peroxide may be a leading contributor to this epidemic of premature graying. This new blog is designed to be a resource for those anxious about having their mane turn white and want to better understand the causes.
About COORGA Nutraceuticals
COORGA Nutraceuticals is a company focused on developing products for the anti-aging market. The Gray Hair Defence blog is setup as a resource for those looking for a central resource on all things dealing with the graying process.
Website: http://www.greydefence.com/
Media Contact: FAX # 800-288-7729
# # #