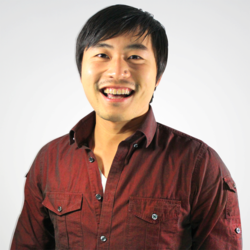 I love what I do and I would not trade it for anything else in the world ... and you can see that from my work.
Los Angeles, CA (PRWEB) November 26, 2012
Award winning marketer and founder of Gray Hat Web, a Los Angeles based web design and marketing agency, Yan Huang, was invited to speak at Pasadena City College for their honors society on the topic of Internet marketing on Tuesday, November 20th, 2012. There was palpable excitement in the crowd of more than 200 people as Huang's infectious energy revealed his unconventional strategy and insight on creating a "perpetual lead generation machine" through channeling targeted traffic and forging an online reputation.
The community college's academic club invited the speaker to their campus to bring a modern, cutting edge perspective on marketing in today's information technology age.
"The first step is to drive traffic to your website. However, there are tons websites with hundreds of visits per day and do not make a single sale. What happened? Leads are not converting to sales. The secret to conversions is forging a flawless online reputation. Reputation is the cornerstone of power. Ultimately, when you control what they see when they search you, you can leverage that power to have them purchase your product or service," stated Huang.
Huang, who grew up in the San Gabriel valley but currently resides in Los Angeles, explained to the young entrepreneurs how he leveraged this timeless principal of reputation that he applied for his business to his personal life, and managed to purchase a house. "At age 20, without a consistent payroll check every month for 10 years or even 5 years, it was quite difficult to get approved for any kind of mortgage loan but through the online reputation I created for my business at the time and the consistency in monthly revenue, I was finally able to get one lender to do it. If I came off like a freelancer, I probably I would not have gotten approved," Huang explained.
"I love what I do and I would not trade it for anything else in the world. I get job offers left and right from being a designer, develop[er], management to head[ing] their entire marketing department, but I turn them down. I love what I do and you can see that from my work." Huang commented towards the end of his speech.
The speech left the audience of college students motivated and excited about their own futures.
You can follow what Yan Huang is doing professionally and in his personal life through his blog, YanHuang.me or hire him through his Los Angeles web design agency.