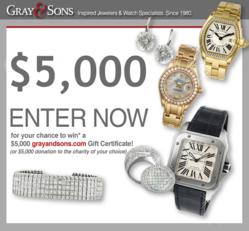 Winning $5,000 to spend on luxurious jewelry doesn't sound too bad, does it?
Miami, FL (PRWEB) February 08, 2012
Winning $5,000 to spend on luxurious jewelry doesn't sound too bad, does it? On Wednesday, February 8, Shpoonkle is launching an amazing contest sponsored by Gray & Sons Jewelry.
To enter the contest, participants simply have to register on the Shpoonkle website from February 8th until May 31st, 2012. There will be only one winner, and she/he will be randomly selected on or about Tuesday June 5th, 2012. The prize is $5,000 towards any purchase from Gray & Sons Jewelry Store or an IRC 501 (c) (3) eligible $5000.00 contribution to the charity of the winning entrant's choice. Gray and Sons Jewelry are located in Surfside (Miami Beach), FL – across from the world famous Bal Harbour Shops.
Join the Shpoonkle community and enter this amazing contest at: http://www.shpoonkle.com/gs-contest
Shpoonkle and Gray & Sons are partnering up to make this contest happen. As Robert Niznik, Shpoonkle's CEO, said, "Shpoonkle is very happy to be part of this exciting contest." Gray & Sons was founded in 1980 by Keith Gray, current president of the company. Gray & Sons is one of the largest purveyors of pre-owned watches and estate jewelry in the world. Gray & Sons not only offers collections of sparkling jewelry and shining watches, but they are also renowned for their on-site restoration facilities, where five Swiss-trained watchmakers and jewelers meticulously repair and restore vintage heirlooms to like new condition. It has been 32 years of solid reputation and excellence in the watch and jewelry business that has made Gray & Sons one of the more recognizable names in the industry.
Shpoonkle promotes advocacy to their members with free services; and exciting contests like this one offer Shpoonkle visitors an opportunity to win an amazing prize. Shpoonkle is an innovative free web site that allows clients to confidentially post a legal case on line where attorneys bid for that case. The client has the option to pick any of the bidders and can communicate privately with the attorneys. Shpoonkle and Shpoonkle Canada are either registered trademarks or trademarks of Shpoonkle, LLC. in the United States and/or other countries.
For more information, contact:
D. Morgan
305-712-2822
info(at)shpoonkle(dot)com
http://www.shpoonkle.com
Sponsor's contact information:
9595 Harding Avenue
Surfside (Miami Beach) FL, 33154
305-865-0999
http://www.grayandsons.com
Contest Rules: http://www.shpoonkle.com/gray-a-sons
###