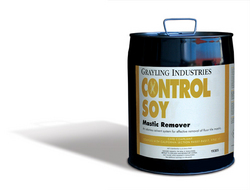 "Although the formulation is not for every asbestos removal job, Control™ Soy is ideally suited for abatement projects where odors could be an issue or where the environmental impact of the solvents used is important"
Alpharetta, GA (PRWEB) June 1, 2010
Grayling Industries, a leading manufacturer of environmental safety products, announced today the successful development of Control™ Soy mastic remover, a new, safe, biodegradable and low odor solvent blend designed to liquefy floor adhesives on asbestos abatement projects, while insuring workers and building occupants are safe and comfortable.
David Larsen, who led the development of Control™ Soy, says, "Although the formulation is not for every asbestos removal job, Control™ Soy is ideally suited for abatement projects where odors could be an issue or where the environmental impact of the solvents used is important"
Control™ Soy is a natural, soybean based product designed for the safe and environmentally responsible removal of all types of floor adhesives. The product is biodegradable, has a flash point of over 200°F, emits no VOCs and has essentially no odor. The Control™ Soy formulation complies with the requirements of the; California Air Resources Board (CARB), Ozone Transportation Commission (OTC) and the Lake Michigan Air Director's Consortium (LADCO).
This type of mastic remover product has been proven in the asbestos abatement industry as a viable alternative to hydrocarbon based solvents and is a welcome addition to the extensive Control™ product line of mastic removers.
Control™ Soy and all other Control™ mastic remover products are available worldwide through authorized Grayling distributors.
About Grayling Industries:
Grayling Industries is a North American manufacturer of specialized products for industrial applications. Markets served are industrial packaging and environmental safety. Primary products are intermediate bulk containers and liners and products for contamination control on asbestos abatement projects. Brands include; Guardian™ IBC container liners for liquid and dry applications, PaperIBC™ containers and Avail™ glovebags, Control™ chemicals, D-Con™ disposable showers and Durapax™ disposal Bags for asbestos abatement.
Contact:
Ben Greene, Marketing Manager
ben(dot)greene(at)graylingmail(dot)com
770-751-9095 X 121
# # #