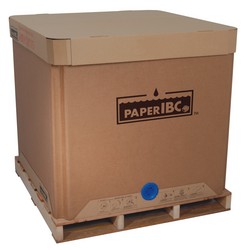 "We are very excited by the opportunity to pair the PaperIBC™ container with our Guardian™ Form-Fit Liners to offer a high quality and environmentally friendly package."
Alpharetta, GA (PRWEB) May 11, 2010
Grayling Industries, a leading manufacturer of form fitted liners for intermediate bulk containers, is introducing a new IBC container for storing and shipping bulk liquid products.
Ben Greene, Marketing Manager for Grayling, announced today that Grayling Industries has been designated as the exclusive distributor of the PaperIBC™ Intermediate bulk container product for North America by Jiing Shin Enterprises of Taiwan.
Per Mr. Greene, "We are very excited by the opportunity to pair the PaperIBC™ container with our Guardian™ Form-Fit Liners to offer a high quality and environmentally friendly package."
The PaperIBC™ container is an environmentally responsible alternative to steel and plastic drums, bottle-in-cage totes and other types of intermediate bulk containers. The PaperIBC™ is completely recyclable, biodegradable and waste-to-energy efficient. One PaperIBC™ container can replace several 55 gallon drums and only requires one person less than 5 minutes to completely set up for filling. The container passed stringent ISTA testing, meets NMFTA requirements and offers compression strength of up to 10,000 pounds.
For more information on the PaperIBC™ intermediate bulk container system, visit http://www.graylingindustries.com or call Grayling at 1-800-635-1551
About Grayling Industries:
Grayling Industries is a North American manufacturer of specialized flexible film products for industrial applications. Markets served are industrial packaging and environmental safety. Primary products are intermediate bulk containers and liners and products for contamination control on asbestos abatement projects. Brands include; Guardian™ IBC container liners for liquid and dry applications, PaperIBC™ containers and Avail™ glovebags, Control™ chemicals, D-Con™ disposable showers and Durapax™ disposal Bags for asbestos abatement.
xt **
# # #