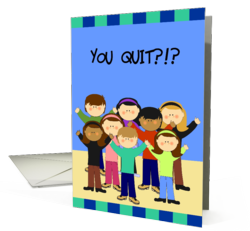 It's been proven that smokers who want to quit, have a greater chance of success if they have the encouragement of friends and family.
San Francisco, CA (PRWEB) November 15, 2012
Greeting Card Universe, the world's largest greeting card store, announces its popular collection of original and hard to find Encouragement and Congratulations Quitting smoking cards in support of the Great American Smokeout.
"The third Thursday in November is the date of the Great American Smokeout, sponsored by the American Cancer Society since 1976," says Mindy Rosso-Gaemi, Community Manager at Greeting Card Universe. "During this event, the more than 60 million cigarette, cigar, and pipe smokers in the U.S. are asked to kick the tobacco habit for at least one day, or better yet make a plan to quit forever."
The American Cancer Society offers resources to help smokers quit. Smoking is associated with premature death and diseases like cancer. One in five deaths can be linked directly to smoking. Smoking threatens to become "the biggest public health disaster in the history of the world," according to John Seffrin, chief executive of the American Cancer Society. Seffrin said, "It will kill, if current trends continue, a billion people this century." Regardless of their age, smokers can substantially reduce their risk of disease, including cancer, by quitting.
The Great American Smokeout has helped draw attention to the problem. Greater focus and education on the consequences of smoking in recent decades has led to new state and federal laws that ban smoking in many public places, limit cigarette advertising, and raise taxes on tobacco products. Throughout the United States, communities hold rallies and parades to raise awareness, offer stop-smoking support groups, and set up hotlines for information on quitting.
"Giving up smoking is very difficult for many reasons," says Rosso-Gaemi. "It's been proven that smokers who want to quit, have a greater chance of success if they have the encouragement of friends and family. Greeting Card Universe is proud to offer both Encouragement and Congratulations cards to send to smokers who are trying to break the addiction and adopt a healthier lifestyle."
Greeting Card Universe's online collection makes it simple and convenient to order a special card to send support and encouragement to friends and relatives who are giving up tobacco. Shoppers can personalize the inside of all cards at Greeting Card Universe with their own text and photo.
"Adding a personal touch couldn't be easier while enjoying the ease of ordering online. Custom greeting cards can also be created within 48 hours at no additional cost by requesting changes or a totally new design from our artist community of over 5,525 freelance artists from around the world," says Rosso-Gaemi. "And you can order online and pick up your cards - usually within 1 hour - from most Target stores across the country."
Greeting Card Universe's traditional and niche offerings of over 572,500 cards gives nod to the importance of choice and personalization in today's marketplace and stays true to its tagline "any card imaginable."
About Greeting Card Universe
Greeting Card Universe (http://www.greetingcarduniverse.com) is a division of BigDates Solutions, a private company that provides consumers with unique, personalized services for any holiday or occasion. Greeting Card Universe is the world's largest paper greeting card store, offering an unlimited selection of custom greeting cards, birthday greeting cards, photo cards, invitations, and note cards. BigDates Solutions is the leading provider of Online Reminder Service Solutions, powering gift-reminder services, including 1800Flowers.com and FTD.com. The company is also the owner of Birthday Calendar, a Facebook application with over 43 million installs.