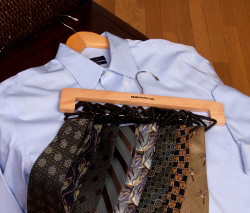 "Necktie Butler tie racks cost about the same amount as a good tie... but show much more creativity and care."
Portland, Oregon (PRWEB) May 16, 2013
An online tie rack shop created a list of the best Father's Day gift ideas, and the post says the list will have something on it for every type of Dad.
The list is as follows:
Necktie racks- They say a necktie rack is a thoughtful gift to give to the father figures in your life. They work well for young fathers just starting out in the workplace. They work well for established family men with stable careers. They work well for grandfathers who still dress up to go to church. Anyone who owns ties could use a necktie rack, the authors say. Necktie Butler tie racks cost about the same amount as a good tie, the site says, but show much more creativity and care.
Camping gear- Camping gear is a great gift for dads who love the outdoors. This type of gift can also always come with an invitation to go camping together. Dads will swoon over the idea of showing their children or grandchildren why they love the outdoors as much as they do.
Grilling accessories- For the man loves to turn a steak, grilling accessories are a great Father's Day gift idea. Barbecuing seems like the ultimate sign of manliness, so help your Dad get his testosterone on by buying him a fancy grilling tool. Be it a meat thermometer, a grill cleaner, or a new set of BBQ spatulas, he's going to love the gift.
Cologne- Make the dad in your life instantly "cooler" with just the spray of a bottle. By wearing the right cologne, a dad can go from run-of-the-mill to extraordinary. This may seem like a gift that a girlfriend gets for her high school boyfriend, but don't be fooled by that facade. With the right card or note, cologne can be an expression of care for the dad in your life because you're telling him you want to bring him into the modern world!
In-home sporting equipment- Dads and grandpas don't always have time or energy to join softball teams, play in basketball tournaments, or take advantage of a membership at a golf club. But you can always bring your Dad's love of sports home and make a family affair out of it! Buy your Dad an air hockey table, or a basketball shooting game you find at the arcade. Buy a ping pong table. Buy a foosball table. Pick his favorite game, and bring it home for the whole family to enjoy!
The authors of this post say the goal in writing this list is to show that their product is a great choice for some dads, but also to show that there are other choices out there that will work better for different types of dads.
The Original Necktie Butler tie rack comes in two different colors; a lighter, and a darker wood. The price is $29.99 or $31.99 depending on the color choice. Purchasing on The Necktie Butler website is secured through GoDaddy. PayPal, Visa, MasterCard, and American Express are all accepted forms of payment.
One testimonial on the site reads, "The necktie butler necktie rack made a great gift for a friend of mine. He's always looking for ways to keep his numerous ties from hitting the floor. It proved to be super handy too if you can't just pick one out... Drag the whole lot of them to the shirt and grab your favorite tie and go. He'll be ordering a couple more tie racks from you to hold his collection of about 100 ties... He's excited. "