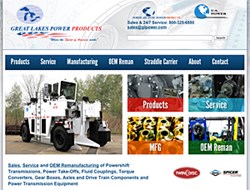 We are one of, if not the first, in our industry to create a website-based parts catalog that has been optimized for mobile devices.
Mentor, Ohio (PRWEB) November 07, 2013
Great Lakes Power Products, a respected distributor, manufacturing and service organization serving a global market in the off highway and marine power transmission and drivetrain industries, recently unveiled its newly revised commercial website.
"Our customers will benefit from the new site by easier and faster access to products, parts and technical information," said Great Lakes Power Products President, Rick Pennza. "The new Great Lakes Power Products site also offers a more intuitive design and faster navigation than before and includes an extensive searchable parts catalog. We are one of, if not the first, in our industry to create a website-based parts catalog that has been optimized for mobile devices. Now our customers may order products, parts or obtain technical information from their smart phone or tablet right from the field by entering a key word or part number. We are particularly proud of our new website's design that features our proprietary Straddle Carrier, the ST 35 Yard Bully™," he concluded.
From the website's home page, visitors have access to Great Lakes Power's multi-faceted business offerings of products, parts, service, manufacturing, straddle carries and OEM reman capability and technical information. Once there, visitors can quickly access various areas of the site including its entire catalog of off road and marine power transmission products and parts. Visitors looking to access product or parts information from one of Great lakes Power's affiliates, North Atlantic Power and US Power will also have identical capabilities. The Home Page also features the latest news about Great Lakes Power's key events and product promotions.
About The Great Lakes Power
The Great Lakes Power group of companies represents leading global off-highway power transmission drive train and other related industrial component manufacturers such as Twin Disc, Dana Spicer, Clark-Hurth, Funk Manufacturing, Durst, Cotta Transmission, TDI, Axletech, Carrarro, Wichita Clutch, Kongsberg Automotive, Interlube, Donaldson, Racor and other leading off highway power transmission equipment and parts manufacturers. The Company's success lies in its ability to bring together the strengths of each organization to competently and professionally solve customer problems. We add value to our customer's needs by providing the best power transmission and drive train products, parts and services available in the industry.
Contact Great Lakes Power Products at 800-325-6880, or visit http://www.GLPower.com for additional information.