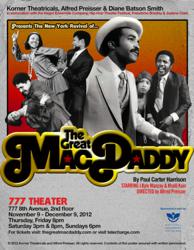 "The Great MacDaddy" was inspired by the folktale "The Palm Wine Drunkard," It is as relevant today as when it debuted at the Negro Ensemble Theater over thirty years ago. Come and enjoy this revival!" - Actress Phylicia Rashad
New York, NY (PRWEB) October 02, 2012
Korner Theatricals is pleased to announce the first major New York City revival in 35 years of the Obie Award Winning "The Great MacDaddy," by Paul Carter Harrison for the fall 2012 season. Obie award-winning actor and producer J. Kyle Manzay as The Great MacDaddy and film veteran Khalil Kain as Scag have joined the cast while original cast member Charles Weldon, Artistic Director of the NEC, returns to star in the revival. Award-winning director Alfred Preisser helms the production, which opens November 15th at 8:00 PM. The Great MacDaddy is the first production at the new 777 Theater in the Broadway theatre district, at 777 8th, New York, NY. Further casting will be announced at a later date.
The Great MacDaddy was originally staged in a 1974 Negro Ensemble Company production that featured the late Al Freeman, Jr., Phylicia Rashad, Cleavon Little and Hattie Winston. One of the company's seminal works, The Great MacDaddy is a rich and theatrically vital text set to music and expressed largely through folkloric archetypes from the African American oral tradition. It is one of the only plays that examines the African-American journey in the United States in terms of universal myth and metaphor.
This classic tale, an African-American Odyssey, takes audiences on an episodic 10-decade journey across 20th century America. It tells the story of The Great MacDaddy, a prohibition era hustler/bootlegger in search of his lost friend Wine, who holds the mysteries of the race. Funny and theatrically outrageous, Paul Carter Harrison's play is wholly unique, a classic as insightful and timely as when it premiered.
Tony and Emmy award-winning actress and original cast member Phylicia Rashad is, like many in the theatre community, excited about the revival of The Great MacDaddy: "'The Great MacDaddy' was inspired by the folktale 'The Palm Wine Drunkard,' It is as relevant today as when it debuted at the Negro Ensemble Theater over thirty years ago. Come and enjoy this revival!"
J Kyle Manzay has appeared on stage in plays such as "The Blacks: A Clown Show" (Obie Award for Outstanding Performance), "The Actor's Rap, Ain't Supposed to Die a Natural Death" (AUDELCO Nomination for Best Actor in a Musical) and "Waiting for Godot" (AUDELCO Nomination for Best Ensemble). He has also worked Off-Broadway at The Cherry Lane Theater, Classic Stage Company, and New York Theater Workshop.
J Kyle Manzay has been seen on Law & Order -SVU, CSI - NY, and just recently completed an appearance on the upcoming 2012 season of HBO's hit series Treme. He has been seen in the films Brother to Brother, Little Manhattan (Twentieth Century Fox), Singe Hills, and played opposite Denzel Washington and Russell Crowe in American Gangster (Universal Pictures).
Khalil Kain has appeared in films such as "For Colored Girls", "Love Jones", "Juice", "Passing Glory Renaissance Man", and as Tiger Woods in HBO's "The Tiger Woods Story." In television he's starred in a recurring role on the series, "Girlfriends," as well as "CSI", "Medium", "Friends", "CSI: Miami" and many others.
Alfred Preisser is an award winning director, writer and producer of theatre. From 1999 - 2009, Mr. Preisser was the Founding Artistic Director of The Classical Theatre of Harlem. Under his leadership The CTH grew from a startup into a critically acclaimed force with a national reputation for artistic excellence, producing over forty classical works ranging from Euripides to Melvin Van Peebles. Recent New York productions include "The Man Who Ate Michael Rockefeller" (NY Times Critic's Pick), "Ain't Nothin But the Blues" (2011 AUDELCO AWARDS, Outstanding Director and Musical of the Year) and the world premiere of "Power of Trinity," a theatrical concert exploring the life of Haile Selassie. His work has been recognized with the American Theatre Wing Award (Outstanding Artistic Achievement), Drama Desk Award (Artistic Achievement), Edwin Booth Award (Outstanding Contribution to NYC Theater), Lucille Lortel Award (Outstanding Body of Work), two Obie Awards (Sustained Achievement and Excellence in Theatre) and numerous Audelco Awards.
About Korner Theatricals
Korner Theatricals is the theater division of Korner Enterprises. Korner Theatricals has developed Selling Out (which is slated to open at the prestigious Pasadena Playhouse in the fall of 2013), The Bootleg Blues, and For Vixens Who've Considered Homicide When the Video was Too Much. Korner Theatricals in association with Sony Entertainment produced the critically acclaimed Hip-Hop Monologues: Inside the Life and Mind of Jim Jones for former Columbia Recording artist Jim Jones.
Where: 777 Theater, 777 8th Avenue (btw: 47th and 48th), New York, NY
When: Previews will take place November 10th and 11th. Opening night is November 15th.
Tickets: $25 - $45 via Telecharge.com
For more information, please visit http://www.thegreatmacdaddy.com
For press inquiries please contact Jennifer A. Williams of J Sharpe Agency Public Relations at Jennifer (at) jsharpeagency (dot) com