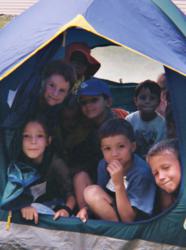 Trade screen time for green time with a night under the stars.
Reston, VA (PRWEB) May 17, 2011
Remember your first s'more? Not much to it, but it tasted better than any dessert you'd ever had. That goes for just about anything cooked over a campfire.
Bring back those memories and make new ones for your family by participating in the 7th annual Great American Backyard Campout (GABC) on June 25. National Wildlife Federation's fundraising event encourages parents and kids alike to trade screen time for green time by spending a night under the stars.
In the last two decades, childhood has literally moved indoors with kids spending more than seven hours per day in front of electronic media. The average American child now spends just four to seven minutes outside in unstructured play each day. Simply put, the nature of childhood has changed, and there isn't much nature in it.
Studies show that outdoor time helps children grow lean and strong, enhances creativity and attention spans, decreases aggression, and boosts classroom performance. Bottom line; healthier, happier kids.
A night under the stars will help kids understand why it's called the GREAT outdoors. As part of National Wildlife Federation's Be Out There movement, GABC lets kids explore a whole other world right in their own backyard, together with neighbors, or at a larger community event. For those looking to camp beyond their own backyard, the GABC website helps locate organized events across the country. While enjoying a relaxing night with family and friends, you can also help raise much-needed funds for NWF's programs.
As soon as people register, they receive a link to a personal online participant center so they can start planning their campout and fundraising effort. Check out the Get Ready section for recipes, nature activities and games, crafts, and campfire stories that will help create lasting family memories.
Joining NWF this year as sponsors are REI (Recreational Equipment, Inc.) and KOA (Kampgrounds of America). Both companies share NWF's desire to connect children and their families with nature through outdoor activities like camping which can create lasting family memories.
National Wildlife Federation inspires Americans to protect wildlife for our children's future.
Media Contact: Mary Burnette, Burnette(at)nwf(dot)org, 703-438-6097
http://www.backyardcampout.org
# # #