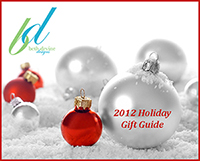 Giving jewelry gifts that can be worn for years is a great way to show the women in your life how much they mean to you
Boca Raton, FL (PRWEB) November 29, 2012
This time of year begins the frenzy of shoppers looking for the perfect holiday gifts for their loved ones. Each year, jewelry continues to be a favorite choice for holiday gift-giving. With so many choices available, finding the perfect jewelry gifts for the women in your life can sometimes be a challenge. To hopefully take some of the stress out of holiday shopping, Beth Devine Designs is making it simple and more affordable than ever this year to find great gifts for her by releasing the 2012 Jewelry Gifts Guide. "Giving jewelry gifts that can be worn for years is a great way to show the women in your life how much they mean to you" says Beth Devine.
Designed to make online shopping quick and affordable, the gift guide includes a selection of great jewelry gift ideas, and is divided into sections that allow customers to find gifts by price or category. Shoppers may quickly determine what they are looking for easily and find it fast. Those looking for gifts within a specific price range will enjoy the shop by price categories that include jewelry under 100 dollars and jewelry under 50 dollars. Among the other categories are a "Holiday Sparkle" section that includes popular necklaces, earrings and bracelets for the season and a "Beach Jewelry Gifts" section which includes some of the most popular beach-inspired jewelry. For those who are unsure of what to buy, E-gift cards are included in the gift guide and may be purchased in any increment.
All jewelry is handmade to order and usually ship in around 3 days. Your order will arrive ready to for gift-giving in a complimentary gift box tied with ribbon. *Please note that the last day to place orders with standard shipping and receive them in time for Christmas is December 17th.
About Beth Devine Designs
Beth Devine Designs is based in South Florida and offers a selection of handmade designer jewelry that includes over 250 pieces of elegant and wearable jewelry. Designed and impeccably handmade to last a lifetime, an array of high-quality materials are used, including natural gemstones, genuine Swarovski crystal beads, freshwater pearls, sea shells and coral. Metals used include either sterling silver or 14k gold filled.
Since beginning in 2006, Beth Devine has expanded her collection to also include a special line of handmade wedding jewelry that includes bridal, bridesmaid and beach inspired jewelry.
All jewelry is handmade in the USA and usually ships in about 3 days. Free standard shipping within the United States is available on orders over $75. To view the Holiday 2012 Jewelry Gifts Guide, please visit http://bethdevinedesigns.com/pages/Gift_Guide.html