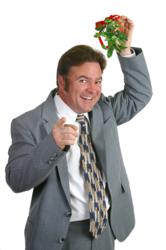 25% of companies are not planning to give their employees a gift or host any form of holiday celebration.
(PRWEB) November 28, 2012
A new survey released today by America's leading experience gifts company Great American Days revealed that only 49% of organizations planned on giving an end of year gift to their staff this year, while the number of companies organizing an end of year party was higher at 64%. The survey, conducted among almost 1000 HR Managers also asked participants what type of celebration their company was planning to host. A party was the most popular option, followed closely by a holiday lunch and thirdly, a holiday dinner. Almost 25% of respondents revealed that their company had no plans for either annual gift-giving or a celebratory event, whereas 32% of companies planned on doing both.
The findings follow a recent survey (1) by incentives agency, Parago which revealed that just 31% of employees were expecting to receive a gift this year and that, for 61% of employees, it would take just a $25 gift card to meet their expectations, up from 55% in 2011. Out of those employees surveyed, 83% said that receiving a gift would make them feel appreciated, more productive and would also make them more loyal to their employer. The report also revealed that, for 82% of employees, receiving a gift would show them they had done a great job and that their employer appreciated or valued them, up from 79% in 2011.
As HR Managers and bosses embark on their annual quest to provide holiday gifts and end of year celebrations that deliver an increasingly bigger bang for the buck, workplace happiness is a hot topic. Christmas is a time to reflect on the year in hand and it's often over the holiday break that employees make life-changing career resolutions. Receiving a well-chosen gift and feeling valued at this critical time of year can have a positive effect on staff retention.
But for many HR managers, choosing gifts for staff can be the hardest part of the holidays. Deciding what to give and how much to spend on employees can feel like a migraine waiting to happen. Different personalities, positions and relationships need to be considered as well as the cost of buying for tens or hundreds of employees.
The role of HR is made even harder in the context of challenging economic conditions and worrying statistics on the state of the nation's happiness. The feel good factor or lack of it in America's workplace is no laughing matter. Happiness is sliding year on year according
the Gallup-Healthwise Wellbeing Index (2) which assesses people's health in eight different categories.
What may come as a surprise to many is the list of the top five happiest jobs in America which was assessed in 2010 by CareerBliss.com (3). Biotechnology workers followed by customer service representatives came out smiling, closely followed by teachers, administrative assistants and buyers.
But why are fun and the feel good factor so important in the workplace? Studies show that having fun can help employees feel more engaged which in turn spurs profitability. Dr. David Abramis at California State Long Beach has studied fun at work for years. His findings firmly suggest that laughter on the job increases job performance. Happy employees are more loyal and productive. They work better with others, are more creative, have more energy and get sick less often. Happy people also make better decisions, fewer mistakes and fix problems rather than complaining about them.
Laughter triggers the release of endorphins, a chemical 10 times more powerful than the pain-relieving drug morphine, with the same exhilarating effect as doing strenuous exercise. What's more, every time we have a good hearty laugh, we burn up calories. Laughing increases oxygen intake, in turn replenishing and rejuvenating cells which boots immunity and relieves stress.
Great American Days CEO, Adrian Dewey commented: "I recently learned that the average pre-schooler laughs or smiles 400 times a day but by the time we get to 35, this number decreases to just 15 times a day. That's a pretty depressing statistic!.
"At Great American Days, we're dedicated to bringing the feel good factor back into the American work place. Experience gifts such as stock car racing or a team building day spent hot air ballooning will literally leave you grinning from ear to ear. They also provide a break from the norm and create memories that last a lifetime."
So what can we do to inject a little happiness into our office this holiday season? Check out the Great American Days 12 Days of Christmas Grinch-busting Guide to keep you smiling in the countdown to the holidays.

Reference Sources:
1. Parago is the US' leading provider of end-to-end engagement management solutions for consumers, sales channel and employees
2. The Gallup-Healthways Well-Being Index® is the first-ever daily assessment of U.S. residents' health and well-being
3. In 2010, career site CareerBliss.com conducted 200,000 reviews of US workers to gauge happiness levels.
4. Dr David Abramis of California State Long Beach is a US leading expert on fun and laughter in the workplace and has conducted many studies on the subject.