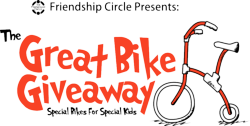 Special Bikes for Special Children
West Bloomfield, MI (PRWEB) April 24, 2012
Just about every child you'll ever meet would like to have his or her own bicycle to ride around their neighborhood. For many children with special needs and their parents it's not always so simple.
Friendship Circle of Michigan is doing something about this as they launch their first ever, "Great Bike Giveaway'. Eighteen specially adapted bikes for eighteen special boys and girls will be given away in the First Annual, "Great Bike Giveaway".
Bassie Shemtov, Director of Friendship Circle says, "Many parents cannot afford these specially made bikes and our goal is to help put more fun and freedom into as many children's lives as possible by giving them their own bicycles. In future years, we plan on giving away even more bikes."
The "Great Bike Giveaway" works like this. Between now and May 10th 2012 each contest entrant must visit Friendship Circle of Michigan's Facebook page and submit a picture of their child or a creative photo, which portrays why their family wants or needs an adaptive bike.
During the week of May 13-18, All submissions will be put up for a public vote. Family and friends are allowed to vote on line once per submission.
The top 14 entrants with the highest total of votes will win their very own specially adaptive bicycle.
In addition four other submissions will win "Director's Choice" awards So come on moms and dads, brothers and sisters take just a few minutes and submit a photo today and earn your chance to win a beautiful bicycle which your child or sibling will enjoy for years to come.
To submit your entry and learn more about the Great Bike Giveaway visit bit.ly/greatbikegiveaway
Friendship Circle has been providing assistance and support for more than 3,000 families of children with special needs since 1994. Most of the Friendship Circle's work takes place at the Ferber Kaufman Life Town building, a 28,000 square foot state of the art facility in West Bloomfield that serves as a therapy/activity center and social meeting place for its network of more than 1,000 volunteers, professional staff and supporters. For more information on Friendship Circle, please visit FriendshipCircle.org