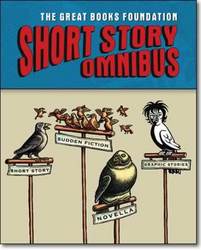 almost like a lyric poem.
Chicago, IL (PRWEB) March 2, 2009
Best known for introducing readers and discussion groups to classic works, the Great Books Foundation is embracing two recent developments in literature--sudden fiction and graphic stories, popularly called "comics."
The Great Books Foundation Short Story Omnibus (The Great Books Foundation, March 2009), edited by Daniel Born, Judith McCue and Donald Whitfield, not only includes stories from familiar classic and contemporary authors such as Edgar Allan Poe, Ernest Hemingway, John Updike and Margaret Atwood, but also features nine pieces of sudden fiction (also known as short short fiction or flash fiction) and three graphic selections, each accompanied by discussion questions and a short author biography.
Although the graphic stories and sudden fiction might seem to mark a departure from the Foundation's usual focus on more canonical texts, Daniel Born, coeditor of the Short Story Omnibus, says that these modern genres are not "adolescent pop culture ephemera" but important new forms worthy of close reading and serious discussion. Born cites Irving Howe's praise that sudden fiction functions "almost like a lyric poem." Born goes on to note the historical precedent of the novel's rise from cheap popular entertainment to serious literature.
Indeed, the graphic stories claim their place in literary tradition, alluding and responding to classic texts: Alison Bechdel's "A Happy Death" invokes Marcel Proust, James Joyce and Albert Camus, among others; Joe Sacco's Palestine (Chapter One) draws on Joseph Conrad.
Rounding out the collection are twenty-five more-traditional short stories and two novellas, spanning a century and a half and representing the rich variety of a prose form whose one rule, as Edgar Allan Poe observed, is that it be brief enough to read in one sitting. The Great Books Foundation Short Story Omnibus allows for nearly forty such sittings, appealing to book groups, literature and creative writing classes and casual readers alike.
Available mid-March online or by phone through The Great Books Foundation: 800-222-5870.
About the Great Books Foundation:
The Great Books Foundation (GBF) was established in 1947 by two University of Chicago educators, Robert Maynard Hutchins and Mortimer Adler. GBF is an independent, nonprofit educational organization whose mission is to help people learn how to think and share ideas. The Foundation promotes Shared Inquiry discussion and the reading of classic and contemporary texts across the disciplines and publishes books and anthologies for readers of all ages.
Contact: Lindsay Tigue
Marketing and Editorial Associate
The Great Books Foundation
312-332-5870, ext. 259
###