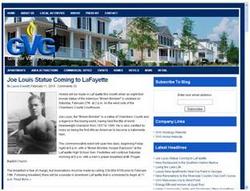 With the launch of the GVG blog, both current and future Greater Valley area residents now have a site that provides them with a comprehensive overview of all of the news, events and real estate opportunities in the Greater Valley Area
Atlanta, GA (Vocus) February 16, 2010
mRELEVANCE is pleased to announce the launch of the Greater Valley Group (GVG) blog: http://www.gvgrealestate.com. Greater Valley Group is a residential and commercial developer located in West Point, Ga. The company's communities are located throughout the Greater Valley area which includes Lanett, Ala., West Point, Ga. and Valley, Ala. This area is experiencing rapid growth due to the recent opening of the new Kia Motors Manufacturing Georgia (KMMG) in West Point, Ga.
"With the launch of the GVG blog, both current and future Greater Valley area residents now have a site that provides them with a comprehensive overview of all of the news, events and real estate opportunities in the Greater Valley Area," said Carol Flammer, managing partner of mRELEVANCE.
The GVG blog provides up-to-date information related to the Greater Valley area, including local news, activities and events, as well as information about apartments, condominiums, new home communities, commercial real estate, and local hotels in the Greater Valley Area.
"We felt it was very important to launch a blog that included detailed and up-to-date information not only about Greater Valley Group, but also the Greater Valley Area," said Tim Randolph, COO of Southern Place Homes, an affiliate of Greater Valley Group. "In today's technology driven world, it is imperative to have an online presence to allows visitors to find reliable information about us and our community."
About mRELEVANCE: mRELEVANCE, LLC, is an Internet marketing, social media and public relations firm that specializes in social media for home builders designed to meet client needs in a changing marketplace by building online and off line relationships that are relevant to client success. Combining the talents and resources of public relations and social media firm Flammer Relations with the power of Internet marketing services at MLC New Home Marketing, mRELEVANCE implements a combination of traditional PR services and up-to-date Web 2.0 tools (e-mail marketing, search engine optimization, social media and others) to create relevant results for clients. With offices in Atlanta and Chicago, we can connect your company with buyers and build relevant relationships nationwide. For more information, visit mRELEVANCE.com, Fan us on Facebook at Facebook.com/mRELEVANCE, Follow us on Twitter at @mRELEVANCE or call 770-383-3360 or 847-259-7312.
"mRELEVANCE…because all MARKETING should be RELEVANT…"
###