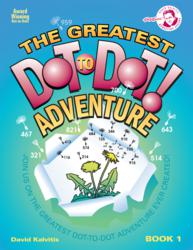 To know that this book has been recognized in its field by such a prestigious award is an gratifying feeling of accomplishment.
Rochester, NY (PRWEB) August 09, 2012
Dot to dot puzzle creator, David Kalvitis, raises the bar again redefining what it means to be the best in an 'Activity Book' series. Since its release in June, The Greatest Dot to Dot Adventure book has carried on the tradition of being the best in the connect the dot puzzle market, and now Monkeying Around is pleased to announce they are the overall best in Activity Books as well after winning the 2012 Book of the Year Award in the Activity Books category from Creative Child Magazine.
"We're honored to accept this award from Creative Child Magazine," says founder of Monkeying Around, David Kalvitis. "To know that this book has been recognized in its field by such a prestigious award is an gratifying feeling of accomplishment."
Each year, Creative Child Magazine hosts a 2-day event in Henderson, Nevada where over a hundred guest reviewers are invited to attend the organized review at Creative Child's local convention center. Parents, educators and professionals convene to review products from each station and conclusions are noted on the required review forms for each category of products.
Based on special criteria that the Creative Child Magazine's Award Program provides, The Greatest Dot to Dot to Dot book was judged based on it's creativity, nurturing factor, and ability to help raise well balanced children. Each product submitted in its field was reviewed by many people, and only one wins each department award.
For more information visit http://www.monkeyingaround.com/
About Creative Child Magazine
Creative Child Magazine is a national bi-monthly publication that provides parents with the latest information on how to nurture their child's creativity. With departments such as Kids at Play, Health and Safety, Discovering Creativity, Nurturing Talent and Tomorrow's Child – Investing for Your Child's Future, Creative Child Magazine is essential and the most complete parenting publication for raising well-balanced children.
Dot to dot publisher, Monkeying Around, was founded in 2000 by puzzle creator David Kalvitis. Kalvitis is a lifelong puzzle and game fan, has a Fine Arts degree from Syracuse University and previously operated a graphic design business in Upstate NY for 13 years. Since 2000, Monkeying Around has been dedicated to offering innovative dot-to-dot products that will delight and entertain children and adults of all ages. Monkeying Around produces "The Greatest Dot-to-Dot Books in the World," a challenging collection of unique dot-to-dot surprises and variations. The company also publishes "The Greatest Newspaper Dot-to-Dot Puzzles," pocket and travel sized collections of weekly syndicated puzzles, in the pages of USA newspapers. In 2007, the first of four "Greatest Dot-to-Dot Super Challenge" books was introduced. David Kalvitis is currently working on the next Greatest Dot-to-Dot Adventure Book.