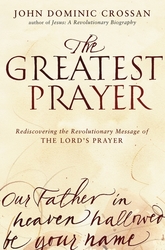 In The Greatest Prayer, our foremost Jesus scholar explores this foundational prayer line by line for the richest and fullest understanding of a prayer every Christian knows by heart.
San Francisco, CA (PRWEB) September 2, 2010
The Lord's Prayer is an indispensable part of Christian faith, recited weekly by a majority of the world's 2.5 billion Christians. It is the way Jesus taught his followers to pray and distills the most essential beliefs required of every one of the world's Christians. Yet how much do we really know about the meaning behind this foundational prayer? What are Christians really praying for?
In THE GREATEST PRAYER: Rediscovering the Revolutionary Message of the Lord's Prayer (September 2010), world-renowned Jesus scholar John Dominic Crossan goes line-by-line through the Lord's Prayer to unlock its meaning. Addressing not only the history and meaning behind each word in the prayer but also its poetic form, Crossan reveals the power behind the prayer, and how surprisingly revolutionary and universal it is.
Crossan unveils the following:
•The Lord's Prayer is Christianity's greatest prayer, but also its strangest. It is prayed by all Christians, but it never mentions Christ. It is prayed in all churches, but never mentions church. It is called the "Lord's Prayer," but it never mentions "Lord"
•Though one could argue that the Lord's Prayer is a Jewish prayer from the Jewish Jesus, it also doesn't mention covenant or law, Temple or Torah, circumcision or purity
•The Lord's Prayer can be seen then as actually transcending Christianity, and can be prayed by followers of all religions
•At the same time, Crossan argues that the Lord's Prayer captures the essence of Jesus's core teachings
In revealing both the universality of the Lord's Prayer and its call to action here on earth, Crossan shows how it can and should be seen by followers of all religions as both a revolutionary manifesto and a hymn of hope.
John Dominic Crossan, professor emeritus at De Paul University, is widely regarded as the foremost historical Jesus scholar of our time. He is the author of several bestselling books, including God and Empire, The Historical Jesus, Jesus: A Revolutionary Biography, The Birth of Christianity, Who Killed Jesus?, and The Last Week, coauthored with Marcus Borg. He lives in Minneola, Florida.
THE GREATEST PRAYER
Rediscovering the Revolutionary Message of the Lord's Prayer
By John Dominic Crossan
HarperOne, an imprint of HarperCollins Publishers
September 2010 | $24.99 | Hardcover | ISBN: 9780061875670
###