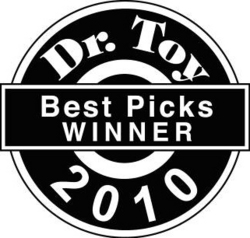 encourage parents and teachers to focus on the value of play as essential to the learning process.
Rochester, NY (Vocus) November 23, 2010
On the heels of receiving the 2010 Major Fun Award, puzzle creator David Kalvitis learned that his Dot-to-Dot Super Challenge Books 5-8 received the "Best Picks" award from Dr. Toy, renowned expert in the field of children's toys and products. For thirty years, parents, teachers, and toy buyers have sought Dr. Toy's (a.k.a. Stevanne Auerback PhD) guidance in finding the best new toys on the market. Kalvitis's uniquely challenging connect-the-dot puzzle books were selected this year by Dr. Toy as products that "encourage parents and teachers to focus on the value of play as essential to the learning process."
This is the second time Kalvitis's puzzle books have been honored with a Dr. Toy award. In 2004, Kalvitis's original series, The Greatest Dot-to-Dot Books 1-4 earned Dr. Toy's Best Classic Toys award, touting the books' "increasingly challenging puzzles and intricate drawings." As Dr. Toy says, "The concept has been around for a long time, but these books take a fresh new approach to the wonderful world of dot-to-dots." Four "Super Challenge" books later, Kalvitis has continued to bring fun, new challenges to this childhood classic, earning his new series Dr. Toy's Best Picks award.
Auerback, director of the Institute for Childhood Resources, selects products that "provide children with exciting new developmentally appropriate tools to help them do better in school, and also provide them with more constructive activities after school." Dr. Toy reviews products at toy fairs, through catalogs and many other sources when constructing her annual list. Her criteria are extensive and thorough, ranging from educational value and durability to design and creativity. Kalvitis was honored to have his Greatest Dot-to-Dot Super Challenge series recognized for these qualities.
Following the release of his eighth book in the popular "Super Challenge" series, David Kalvitis said, "I'm absolutely amazed at the different ways people have discovered for using my books, from brain exercises to physical therapy to teaching math and geometry." With the addition of his books to Dr. Toy's Best Picks Award, it appears Dr. Auerbach agrees. "Children learn best through play," says Dr. Auerbach, "and these smart new toys and products encourage children to maximize their potentials. These are products that can be found at home and/or school." For parents and educators looking for variety and entertainment value as well as a creative, educational dose of a beloved classic, Dr. Toy prescribes The Greatest Dot-to-Dot Super Challenge series.
###