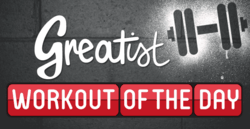 With Greatist Workouts of the Day, the question 'What should I do at the gym today?' finally has an answer.
(PRWEB) August 24, 2012
Greatist.com is excited to announce the launch of Greatist Workouts of the Day (affectionately called "GWODs"), high-quality, comprehensive strength and conditioning programs anyone can use. GWODs were created after Greatist.com readers expressed their frustration at a lack of quality fitness programming accessible to any gym goer, male and female — not just the most "elite" or "hardcore" individuals among us. So we partnered with some of the best minds in the health and fitness industry to create killer workouts we could give our readers — for free. Just come to the site for each day's workout. We've got three options: 2, 3, and 4 day per week programs to fit people's varying levels of commitment.
With GWODs, the question "What should I do at the gym today?" finally has an answer. But that doesn't mean these are programmed randomly. While this is a "workout of the day," GWODs should be seen as a long-term, progressive training method that will ultimately take trainees through various training phases, building a lasting strength and endurance base. GWODs will expose you to a lot of fun, effective exercises and protocols that are meant to be progressive and safe. And did we mention they're free?
GWODs are designed by strength and conditioning specialists Dan Trink of Peak Performance and Tony Gentilcore of Cressey Performance. In addition to Dan and Tony, Greatist is also working with some of the fitness industry's foremost authorities on strength, mobility, endurance, and conditioning — including Ben Bruno, Kellie Davis, and Jon-Erik Kawamoto, to name a few — to provide their expert advice on the programming, along with unique content to be published alongside GWODs themselves. This expert panel will expand to constantly meet the needs of GWOD users.
About Greatist:
Greatist is a health & fitness media startup on a mission to make better choices easier for everyone. Founded by Derek Flanzraich in 2011, it's now the fastest-growing site in the health space with over 1 million uniques/month. Currently a destination site for super high-quality, original fitness, health, and happiness content (every fact cited by a PubMed study, every article approved by multiple experts), Greatist is working to build the first truly trusted health & wellness brand online to help the world (and especially those 18-35) think of preventive health in a healthier way.