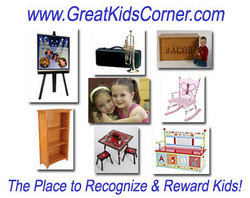 Helping children feel confident in their achievements is critical to a child's development and ability to achieve even more
Los Angeles, CA (Vocus) October 29, 2008
When customers register with Great Kids Corner, they will receive a 10% coupon that they can apply toward their next purchase at our store. By registering, customers are also able to receive promotions and find out about the latest additions to our brands and products. As registered members, customers can participate in our bonus program to save additional money by accruing 10% towards their next purchase. All products are on sale, up to 30% off, during our current Fall Special. We have a new toll free phone number 1-866-917-2314 and toll free fax number 1-866-917-1609.
Our products enable children to develop their imagination and skills. Parents can decorate their child's room with beautifully crafted kids bedroom furniture, such as our cots, desks and tables, chests and bookshelves. Children love special themes such as princesses, firefighters, animals and sports, so we identified many collections to help parents pick their child's favorites. Parents can help their child learn to organize with our accessories and decor products such as storage products and clothes racks. Let children's imagination run wild with kids play furniture such as easels, play kitchens and train tables. Give your child the opportunity to develop their skills and gain life-long treasured hobbies with our educational entertainment products such as chess sets and musical instruments.
We think it is critical to recognize kids. So when a purchase is made, we offer parents the opportunity to recognize their child's achievements on our Kids Love To™ website series at no cost. Parents can celebrate the achievements of their children in writing, art, crafts, acting, dancing, singing, playing musical instruments, playing sports, having entrepreneurial endeavors and more. We customize the web page with your child's work. When children see that their efforts are recognized online, they are motivated to achieve even more. Children applying to schools and auditions can prepare their portfolios. Family and friends around the world don't have to miss out on the children's progress and achievements.
About Great Kids Corner:
Great Kids Corner was established in conjunction with the Kids Love To website series as 'The Place to Recognize and Reward Kids' by Dahlia Web Designs LLC. "Helping children feel confident in their achievements is critical to a child's development and ability to achieve even more," says Dahlia Benaroya, President, Dahlia Web Designs LLC. "Children gain confidence by having their achievements recognized. That is why our company decided to create the 'Corner'. We are very excited to have wonderful, colorful, imaginative products at affordable prices to give kids enjoyment and educational entertainment."
###