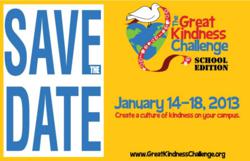 As a result of The Great Kindness Challenge, we noticed a real impact on the school's culture with a decrease in bullying and an increase in compassion, unity and respect. Principal Chad Lund
San Diego, Ca (PRWEB) December 27, 2012
Schools Nationwide Unite in Kindness . Students Kick-Off the New Year with the Great Kindness Challenge on January 14-18, 2013.
As schools grapple with the tragedy of the Sandy Hook shootings, there is a call for kindness. Students from coast to coast are answering that call as they join together to take the Great Kindness Challenge and prove that KINDNESS MATTERS.
The Great Kindness Challenge is one week where students perform as many acts of kindness on campus as possible, using a checklist of 50 suggestions. It's free, easy to implement, and has the power to increase tolerance, unity and respect for all grades Kindergarten through High School. Former District Superintendent John A. Roach, Ed.D., says he was pleased to welcome  the Great Kindness Challenge to all Carlsbad campuses. He notes, "This free program teaches so much of value to students of all ages; in fact, to adults as well. In addition to random acts of kindness, participants actively seek out purposeful acts of kindness. We hope their efforts have an enduring effect."
Imagine students complimenting each other, reaching out to a lonely child, picking up trash, surprising friends with happy notes in their backpacks, thanking their teachers, and eating lunch with a new group of friends. That is exactly what will happen in schools nationwide during the 2nd annual Great Kindness Challenge-School Edition.
According to Jill McManigal, Executive Director of Kids for Peace, "Hearts were cracked wide open with the unthinkable shootings at Sandy Hook Elementary. Now, there's a profound desire to do something positive that will affect enduring change on campuses nationwide. The Great Kindness Challenge provides just that opportunity and we hope all schools will join us in creating a culture of peace and kindness." First-grade teacher Holly Hill says that after just a couple days, she can feel a difference. She explains, "This program improves the atmosphere on campus. The Great Kindness Challenge underscores the kinds of things we daily strive to teach our children: how to be nice, say please and thank you, and smile."
Currently, nearly 200 schools have registered for the 2013 Great Kindness Challenge. There is still plenty of time for schools to get involved and demonstrate that KINDNESS MATTERS. Chad Lund, principal of Jefferson Elementary School stated, "The Great Kindness Challenge provided an opportunity for our students to care for each other in ways that went above and beyond their normal interactions. As a result, we noticed a real impact on the school's culture with a decrease in bullying and an increase in compassion, unity and respect."
For more information, to register your school, or download the checklist visit: http://www.greatkindnesschallenge.org or http://www.kidsforpeaceglobal.org
The Great Kindness Challenge-School Edition was created by Kids for Peace. The school edition was inspired by the success of their annual global Great Kindness Challenge. Last August, youth in 69 countries on 6 continents participated in the global Great Kindness Challenge.
Kids for Peace is a global nonprofit dedicated to uplifting our world through love and action. Their mission is to cultivate every child's innate ability to foster peace through cross-cultural experiences and hands-on arts, service and environmental projects. Once a small neighborhood group of children, Kids for Peace has grown to over 150 chapters worldwide. All Kids for Peace activities are based on the Peace Pledge, wise words written by the children to inspire peace for all. http://www.youtube.com/watch?v=c5dwKamQ6CQ