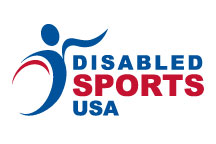 Our collaboration illustrates AIG's commitment to giving back to the community by utilizing the skills, experience, knowledge and enthusiasm of our employees. We are delighted to have AIG representatives as volunteers." - Mark Willis, EVP, AIG P/C
Rockville, MD (PRWEB) May 03, 2013
Disabled Sports USA's local chapter in Chicago, Great Lakes Adaptive Sports Association (GLASA), will conduct the Great Lakes Regional Games and the Adult National Championships on May 3-5, 2013 in Niles West High School in Skokie, IL and Maryville Academy in Des Plaines, IL. The three day multi-sport competitions brings together over 200 youth and adult athletes with disabilities, including wounded warriors, to compete in swimming, track and field, archery, table tennis, power lifting, boccia and handcycling.
"Disabled Sports USA is pleased to join AIG in supporting GLASA's annual event to provide an opportunity for individuals with disabilities, including the nation's wounded warriors, to challenge themselves and compete in various sports," said Kirk M. Bauer, executive director of DSUSA and disabled Vietnam veteran.
The regional games is a qualifier event for youth athletes of age 19 years and under to compete in the National Junior Disability Championships to be held in July 2013 in Rochester, NY. The adult championship provides adults with disabilities, including injured service members, who meet Paralympic eligibility, to excel through sports competition.
"We are extremely proud to partner with Disabled Sports USA in support of the Great Lakes Regional Games and Adult National Championship. Our collaboration illustrates AIG's commitment to giving back to the community by utilizing the skills, experience, knowledge and enthusiasm of our employees, and we are delighted to have AIG representatives serve as volunteers throughout the event," said Mark Willis, Executive Vice President, AIG Property Casualty.
Great Lakes Regional Games and the Adult National Championships are sanctioned by Wheelchair and Ambulatory Sports USA and Wheelchair Track and Field USA.
About Disabled Sports USA
Founded in 1967, Disabled Sports USA is a charitable organization that provides opportunities for individuals with disabilities to develop independence, confidence and fitness through participation in sports. What began as a program to serve Vietnam veterans has since grown into one of the nation's largest multi-sport, multi-disability organizations, annually serving more than 60,000 wounded warriors, youth and adults with disabilities. A member of the U.S. Olympic Committee, Disabled Sports USA offers programs in more than 40 summer and winter sports through its nationwide network of more than 100 community-based chapters. For more information, visit http://www.disabledsportsusa.org.
About AIG
American International Group, Inc. (AIG) is a leading international insurance organization serving customers in more than 130 countries and jurisdictions. AIG companies serve commercial, institutional, and individual customers through one of the most extensive worldwide property-casualty networks of any insurer. In addition, AIG companies are leading providers of life insurance and retirement services in the United States. AIG common stock is listed on the New York Stock Exchange and the Tokyo Stock Exchange. Additional information an be found at http://www.aig.com.
About Great Lakes Adaptive Sports Association
The Great Lakes Adaptive Sports Association provides a variety of elite adaptive sports programs year-round. For additional information on the games or GLASA visit http://www.glasa.org/greatlakesregionals2013 or call 847-283-0908.