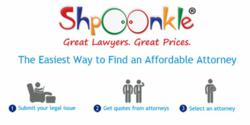 Shpoonkle is gearing up for the next chapter in saving legal consumers money.
Miami, FL (PRWEB) October 01, 2012
Innovation requires constant care, change, and improvements; Shpoonkle has released another update to its website this week. The new version of Shpoonkle has changed everything from the interface, to personalized access, to better communication features for attorneys and clients. Shpoonkle is the one stop solution in affordable and quality legal services on the internet.
The site upgrade features a complete redesign, expanded case features that allow premium attorney members to display their contact information, send personal messages to potential clients, display videos or other informative details about their practice on their profile pages. The advantages of this new feature is that it allows for the attorney to supplement the online marketing of their own sites or practices, with a very established marketing presence that Shpoonkle has created in this niche. Member attorneys can now reap the benefits of Shpoonkle's extensive online marketing campaigns.
These changes are partially based on user feedback to provide for the most productive and comprehensive experience for all members. These new features will only further cement Shpoonkle as a leader in the online legal services model. Clients now can easily post a legal issue anonymously from the home page of the site. There is also a wealth of legal information presented by video or article to assist legal consumers who have a problem and need free help or resources. The intuitive enhancements mean that users won't have to roam around looking for the case posting area. Attorney members are directly navigated to their potential clients and cases immediately after log in. Users are now brought directly to the relevant services and content they want to see.
Shpoonkle's founder Robert Niznik, says "The new look and feel of the site adds so many helpful tools specifically geared toward the needs of clients and attorneys." The improved interface navigates users in a more focused and personalized manner. Shpoonkle is making giant strides towards taking the brand to the next level. Initial beta testing of the new interface has been incredibly favorable, and Niznik asks users to continue sending in feedback and suggestions. The service is consumer centric in its mission, and wants the site to mirror those goals. "Our team is gearing up for the next chapter at Shpoonkle," continues Niznik. "The easier we make the site to use, the more focused and personalized the interface; the greater the accessibility for consumers to find affordable legal services." Shpoonkle is making it easier for the attorney and client to connect successfully on the site. Easier access means more savings for clients, and more new customers for attorneys.
Have you been to the new launch of Shpoonkle yet?
About Shpoonkle
Shpoonkle is a for benefit company and a free legal reverse auction for consumers.
Shpoonkle promotes advocacy to their members and legal consumers with free services to find a lawyer and affordable legal services. Shpoonkle is an innovative free web site that allows clients to confidentially post a legal case on line where attorneys competitively bid for that case. Shpoonkle and Shpoonkle Canada are either registered trademarks or trademarks of Shpoonkle, LLC in the United States and/or other countries.
For more information, please visit: http://www.shpoonkle.com or contact: Press Room at info(at)shpoonkle(dot)com