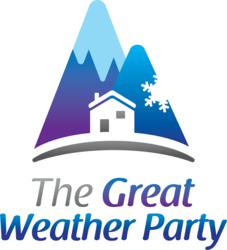 Our goal with the Great Winter Weather Party is to increase the number of families that prepare themselves and their homes before the cold sets in, and have some fun while doing so.
Leslie Chapman-Henderson, FLASH President and CEO
Tallahassee, FL (PRWEB) December 21, 2011
The Federal Alliance for Safe Homes (FLASH)® marks the first day of winter with the launch of the Great Winter Weather Party -- a fun, new family-friendly website and social media campaign aimed at better preparing families and their homes for winter weather hazards.
"Some weather events such as tornadoes can be a surprise, but we know -- that in certain parts of the country -- we WILL experience extreme winter weather at some point during the season," said Leslie Chapman-Henderson, President and CEO of FLASH, the country's leading consumer advocate for strengthening homes and safeguarding families from natural and manmade disasters. "Nevertheless, thousands still find themselves unprepared when the severe winter weather hits," she added. "Our goal with the Great Winter Weather Party is to increase the number of families that prepare themselves and their homes before the cold sets in, and have some fun while doing so."
Join the Great Winter Weather Party
When families join the Great Winter Weather Party at http://www.greatwinterweatherparty.org, they will find easy-to-follow tips on home and family preparedness, an opportunity to become Snow Angel volunteers and a chance to win a KOHLER® Standby Generator to warm their home through winter power outages.
The following are some of the simple tips that the Great Winter Weather Party offers for preparing homes and families for extreme winter weather:
For the Home

Preventing ice dams
Properly insulating pipes
Staying safe while using fireplaces, furnaces and space heaters
For the Family
Gathering the right supplies for an extreme winter event
Creating an emergency plan
Knowing what to do when stranded away from home in the bad weather
Be a Snow Angel Volunteer
The Snow Angel volunteer program, created in partnership with the National Voluntary Organizations Active in Disaster and the HandsOn Network, asks volunteers to pledge to help neighbors in need shovel their walks, salt their steps and provide additional help as needed during extreme winter weather. The goal of the program is to reduce snow shoveling-related injuries (approximately 11,000 each year) and deaths due to heart attacks (approximately 100 each year).
Enter Kohler Generator Sweepstakes
Power outages are common during extreme winter weather and can last for several days. The Great Winter Weather Party gives families an opportunity to win a KOHLER automatic standby generator to keep the heat on, save your pipes from damaging your home and make certain the hot chocolate is warmed perfectly. To enter the sweepstakes, visit http://www.greatwinterweatherparty.org and click on the "generator sweepstakes" tab. To learn more about standby power, visit http://www.kohlerpower.com.
Engage Through Social Media
"Like" the Great Winter Weather Party on Facebook (facebook.com/wxparty) and "follow us" on Twitter (@wxparty) for tips, activities, games and great prizes throughout the season.
The Great Winter Weather Party is presented by FLASH and sponsored by Kohler Generators and State Farm™.
About FLASH
Federal Alliance for Safe Homes (FLASH)®, a 501(c)3 nonprofit organization, is the country's leading consumer advocate for strengthening homes and safeguarding families from natural and manmade disasters. FLASH collaborates with more than 100 innovative and diverse partners that share its vision of making America a more disaster-resistant nation including: BASF, Federal Emergency Management Agency, Florida Division of Emergency Management, The Home Depot®, International Code Council, Kohler® Generators, National Weather Service, RenaissanceRe, Simpson Strong-Tie®, State Farm™, USAA® and WeatherPredict Consulting Inc. In 2008, FLASH opened the interactive weather experience StormStruck: A Tale of Two Homes® in Lake Buena Vista, FL. Learn more about FLASH and gain access to its free consumer resources by visiting http://www.flash.org or calling (877) 221-SAFE (7233). Also, get timely safety tips to ensure that you and your family are always well protected from natural and manmade disasters by subscribing to the FLASH blog – Protect Your Home in a FLASH.
About Kohler
Kohler Power Systems is a division of Kohler Co., and provides complete power systems, including generators (residential, industrial, mobile and marine), automatic transfer switches, switchgear, monitoring controls, and accessories for emergency, prime power and energy-management applications. Kohler Power Systems has delivered energy solutions for markets worldwide since 1920.
About State Farm®
State Farm insures more cars and homes than any other insurer in the U.S., is the leading insurer of watercraft and is also a leading insurer in Canada. State Farm's 17,700 agents and more than 67,000 employees serve 81 million policies and accounts – almost 79 million auto, fire, life and health policies in the United States and Canada, and nearly 2 million bank accounts. State Farm Mutual Automobile Insurance Company is the parent of the State Farm family of companies. State Farm is ranked No. 31 on the Fortune 500 list of largest companies. For more information, please visit statefarm.com® or in Canada, statefarm.ca®.
###