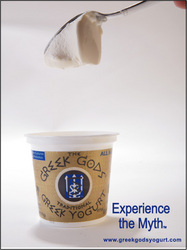 We understand that to some our products are unique, but our desire to provide a truly authentic and delicious product is colossal, stated by the Greek Gods!
Seattle, WA (PRWEB) January 8, 2008
It's chic to eat Greek, according to the Greek Gods. In the food world, consumers are often inundated with retail shelves burgeoning with a multitude of edible product selections all too similar. At times the lack of variety makes for a rather dull shopping and culinary experience, especially for the discerning palate. Times are changing, as new and emerging ethnic product selections are finding their way onto retail shelves throughout the United States due to inspiration from the Mediterranean way of living.
The Mediterranean Diet reflects the characteristic dietary habits of the Mediterranean people. It is based on the simple preparation of tasty dishes based on a wide range of products produced in these countries. At the same time, its recipes can easily be adapted to the personal gustatory preferences of any individual.
The Greek version of the Mediterranean Diet is made up of products consistent with traditional recipes from Greece, which have shaped the dietary habits of Greeks from antiquity to the present day. The point of view of mainstream nutrition is considered a paradox: that although the people living in Mediterranean countries tend to consume relatively high amounts of fat, they have far lower rates of cardiovascular disease than in countries like the United States, where similar levels of fat consumption are found. This is largely due to the variety and selection of foods introduced to the Mediterranean diet, and methods by which they are produced.
During the last 50 years, a unanimous international scientific view has emerged on the global scene stating that the traditional diet of the Mediterranean countries is healthier than western or other lavish diets. This consensus constitutes a reliable statement, since it is the result of work carried out by researchers from all over the world and is not linked to the interests of any industrial unit or particular country.
What does the Mediterranean diet consist of?
The Mediterranean diet is rich in fruit and vegetables, and includes pasta, bread, cereals, rice and potatoes, poultry and fish, dairy products, some minimally-processed seasonal foods, very little meat. The daily intake of dairy products is usually in the form of cheese or yogurt. The most common dessert is any fruit that is in season. Sweets are eaten only a few times a week, and sugar in most cases is replaced by honey. Red meat is almost prohibited and is only consumed a few times a month in small quantities; in contrast, chicken and fish are eaten every week. Finally, wine is an important part of the diet (one or two glasses of wine per day).
One of the companies following the Mediterranean lifestyle, while offering traditional Greek items to the US consumer is The Greek Gods. The Greek Gods company actively promotes their line of Greek Yogurt and now Pagoto Ice Krema (See more below for product descriptions).
The Greek Gods company was founded in 2003 by its 3 original members (3 Greek Gods). The members still take an enthusiastic and active role in the continued development and marketing of the brand and the concept/benefits that Greek foods offer. The founders hold onto their unique approach towards customer service, as each and every email submitted by their valued customers is personally responded to by one of them. "We believe in producing only quality products unique to our heritage, and providing the personal service associated," stated the Greek Gods.
The company continues to work hard to develop and offer only truly unique varieties of its popular ethnic Greek line. Product awareness is extremely important to the company, as they continue to educate the consumer as to the benefits of eating their products, and Mediterranean foods in general. "We understand that to some our products are unique, but our desire to provide a truly authentic and delicious product is colossal, stated by the Greek Gods!" This remains true, as the company continues to impress upon a large and growing fan base. Equally, the company consistently adds and develops business relationships representing high "double digit" growth annually. While the company has big plans for their continued success in the ethnic category, additional business models are continually in motion that explore all facets of the brands potential.
It is widely known that yogurt has nutritional benefits beyond those of milk: some people who are lactose-intolerant can enjoy yogurt without ill effects, because the lactose in the milk precursor is converted to lactic acid by the bacterial culture. The absence of lactose bypasses the affected individual need to process the milk sugar themselves. Additionally, yogurt also has medical uses, in particular for a variety of gastrointestinal conditions, and in preventing antibiotic-associated diarrhea.
For quite sometime now, Greek Yogurt has been one of the staple foods found in greater Europe. Europeans have long appreciated the creamy texture, and unique flavor found only in Greek Yogurt. While there are several varieties of yogurt available on grocery shelves worldwide; many consider Greek Yogurt as the way "real" yogurt should taste.
Due to increased international awareness, the Greek Gods desired to take a more creative and ethnic approach to a relatively domesticated food marketplace. One of these new and amazing products is Greek yogurt, and more specifically Greek Gods Greek Yogurt.
Greek Gods Greek Yogurt represents everything that ones culinary senses should experience, a smooth taste, subtle smell, and creamy mouth feel. Unlike some domestic US brands, Greek yogurt is thick and creamy, full of body and rich in taste. Reflecting on traditional processing techniques (lending to increased good bacterial pro-biotic culture count), and adding value to their yogurt by producing unique flavor profiles and healthy product attributes, the Greek Gods brand separates itself from the rest of the pack. The Greek Gods all natural line includes such varieties as Pomegranate, Honey, Fig, Traditional plain, and Nonfat plain, and now the NEW Reduced Fat Vanilla with Cinnamon and Orange, all of which offer 5 live and active cultures (including Probiotics), rbst free milk, and no artificial sweeteners.
NEW TO THE GREEK GODS LINE
PAGOTO ICE KREMA (with Mastic Oil from Chios, Greece) PRONOUNCED: (PA-GO-TOE)
In Greece, ice treats have been enjoyed since ancient times. During the 5th century BC, ancient Greeks ate snow mixed with honey and fruit in the markets of Athens. The father of modern medicine, Hippocrates, encouraged his ancient Greek patients to eat ice "as it livens the life-juices and increases the well-being." In the 4th century BC, it was well known that a favorite treat of Alexander the Great was snow ice mixed with honey and nectar.
In modern times, Greek Pagoto (Greek ice cream) is enjoyed throughout the Mediterranean for its unique flavors and creamy texture. Greek Gods Pagoto Ice Krema, made the traditional Greek way, using wholesome ingredients and mastic-resin to deliver a creamy and flavorful experience.
Mastic (also know as Chios Tears) comes from mastic trees grown in six villages (Mastichochoria) in the south of the small Greek island of Chios. Also known for its health properties; People in the Mediterranean region have used mastic as a medicine for gastrointestinal ailments for several thousand years.
The new Greek Gods Pagoto Ice Krema TM will be made using Organic Milk, and all natural wholesome dairy products and ingredients. Mastic is introduced in concentrated form to add additional health benefits and authenticity to the line. Varieties will initially include Baklava, Honey Pomegranate, and Chocolata Fig available in retail pint sizes or 1.5 gallon food service tubs.
Always look for the Greek Gods items that come carefully adorned with a different Greek God or Greek Goddess, making it a food and mythological experience.
OPA! Please enjoy your Greek food experience, and the Mediterranean Lifestyle!
Greek Gods Greek Yogurt is available at quality retailers and co-ops throughout the USA. Please visit the website for more product and recipe information along with locations listings.
http://www.greekgodsyogurt.com
http://www.greekgodspagoto.com
If interested in learning more about Greek Gods products, please contact via company email or phone. Distribution available throughout the USA, and soon international markets.
References
Andrew Dalby, Siren Feasts: A History of Food and Gastronomy in Greece, London, 1996. ISBN 0-415-11620-1. (Mostly about ancient and Byzantine food.) and Wikipedia
^ Yogurt--an autodigesting source of lactose. J.C. Kolars et al., New England Journal of Medicine, 310:1-3 (1984)
^ O. Adolfsson et al., "Yogurt and gut function", American Journal of Clinical Nutrition 80:2:245-256 (2004) [1]
^ Ripudaman S. Beniwal, et al., "A Randomized Trial of Yogurt for Prevention of Antibiotic-Associated Diarrhea", Digestive Diseases and Sciences 48:10:2077-2082 (October, 2003) doi:10.1023/A:1026155328638
Sevedetrop "Mediterranean Diet" excerpt
Contact: Press Agent-Greek Gods
# # #