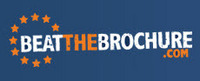 The introduction of the Euro forced many people to take their holidays outside the Euro-zone
(PRWeb UK) June 13, 2010
Sometimes bad news is good news. It turns out the recent debt crisis in Greece has an upside for holidaymakers, with bad publicity over recent strike action sending the Greek tourist industry into a cost-cutting frenzy. Thought the Eurozone and its wallet-crushing exchange rates will keep the tourists out? Think again. Even Greece's position in the Eurozone - largely seen as a major factor in keeping cost-conscious Brits away - will likely be ameliorated by this drive to lower prices.
Daniel Ox, Director of E-Commerce for experts in cheap holidays BeatTheBrochure.com says "Greece and Turkey's tourism industries have been locked in a constant battle for trade for decades. With Turkish holiday bookings currently up due to Greece's problems, the more adventurous holidaymaker will find that the costs of Greece holidays and Crete holidays can be more affordable than those to Turkey."
With over 380 beaches and 6000 islands, Greece still remains one of the top locations for holidaymakers seeking that rare combination of sun, sea and history. Exchange rates might change, but the lure of the Parthenon and the glorious beaches of Crete certainly don't.
"The introduction of the Euro forced many people to take their holidays outside the Euro-zone," Daniel Ox continues, "Greece's economic slump has moved the goalposts, allowing those on a limited budget to explore a truly fascinating country"
In 2008 the country attracted 16.5 million visitors and tourism contributes around 15% to Greece's Gross Domestic Product (GDP). In Greece's current financial situation every visitor counts and for those on Greek holidays sun, sea, and incredible history awaits.
About Beatthebrochure:
Beat The Brochure brings all the leading UK travel suppliers together in one simple search, affording customers access to the best deals from leading operators such as Thomson, Thomas Cook and First Choice.We bring together a huge range of hotels, flights, cars and transfers in order to create your own bespoke package - offering the ultimate in flexibility at the lowest possible price.Beat The Brochure is part of the award winning Como Street Travel Group with offices based in Central London, Essex and Blackpool and Florida, now boasting a team of almost 100 experienced travel consultants. Beat The Brochure is a fully bonded member of the Travel Trust Association (TTA U0898) and is licensed by Civil Aviation Authority (ATOL - T7270) thus offering complete financial protection for bookings.
# # #